Page content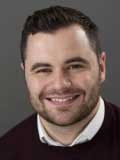 Regional Manager
Hi, I am Conan, your Regional Manager
Welcome to your country's information page.
Here, you'll find relevant information for your country to help you make an application to one of our degree programmes, including entry requirements, Ulster University's events near you and even contact information for our local representatives in your country.
I'm here to help you with any questions you may have about studying at Ulster University.
Why not check if we're visiting your country soon for an event, or feel free to contact me via the channels below.
Email
Study in Northern Ireland
Experience a high quality education with lower cost tuition fees and affordable living in Northern Ireland.
Cheaper tuition fees, study now-pay later loans and affordable living are just some of the reasons you should consider Northern Ireland for University.
With our state-of-the-art campuses in four affordable locations, make your next step Ulster University.
Find out more about studying in Northern Ireland
Upcoming events
There are currently no upcoming events for "Ireland"