Tharun Raj Akula: Belfast is the best
Tharun Raj Akula, an international student from India, shares his experience of what it was like moving to Northern Ireland and living in Belfast.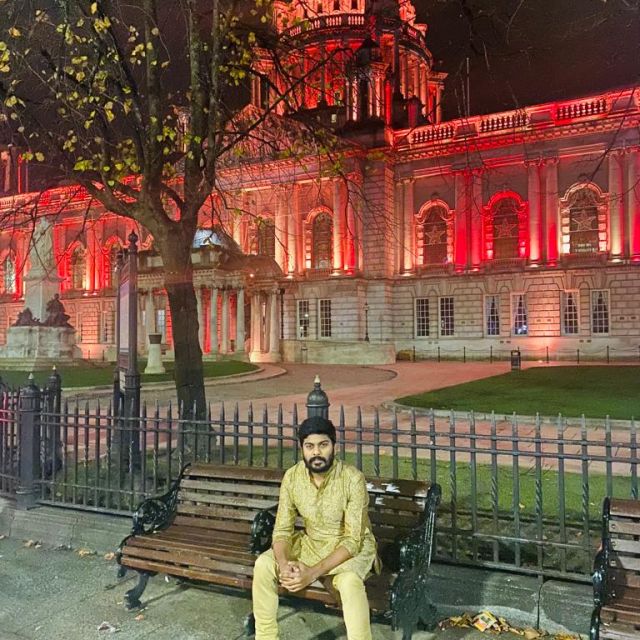 ---
Tharun Raj Akula - My Experience
I'm Tharun Raj Akula, an international student from India, currently enrolled in my Masters on the Internet of Things at Ulster University for the September 2021 intake.
I'm the kind of person who likes to explore new things and new places and mainly learn new things. So, as a part of it, I would like to share my 1st one-month experience as an international student in Belfast, Northern Ireland. I'm excited to share my views with you. I hope you will encourage me to write more like this.
First Impressions
Before I landed at the Belfast city airport, during my flight journey I was exploring the beautiful aerial view of Belfast which is full of green farms lands, ocean and mainly stunning Belfast city with River Lagan. That was the moment where I'm talking to myself saying:
Wow, what a stunning city to live in.
And then, coming out of the airport with positive vibes and enthusiasm and with the cool fresh air made me feel like cloud9. By that time, the cab from Value Cab was waiting outside the airport to pick me up and drop me at Ulster University Jordanstown campus. The cab driver was very friendly and welcoming, and he was talking about the greatness of Belfast city which made me much more confident.
Settling into Ulster University
At the Jordanstown campus, there was an international student experience Team waiting for me at the Residential services building at Dalriada village. They have helped me to take my luggage to my term accommodation and offered me a welcoming kit which includes a Campus map and guidelines, ASDA gift card, and many more.

Belfast is the Best
After 11 days of pleasant quarantine, I moved out to the beautiful city centre where I saw tall, beautiful buildings, restaurants, parks, and a beautiful river lagan. I have made my 1st visit to the BT1 post office to collect my BRP where the staff was very friendly and also guided me to apply for my NI number.
Then, I walked around the city where I found astonishing City Hall, Ulster Museum, Titanic Belfast, Belfast castle, botanic and many more. After coming back to my home, I wrote one single line in my dairy stating that
Belfast is the Best.
And that's all, that made my day.
A city like Belfast will develop even more in terms of economy. I hope a lot more IT companies are yet to establish, and Belfast is the land of opportunities. This city is the best place for international students to pursue their higher studies and plenty of part-time jobs and professional jobs are available.