Governance, Nominations and Remuneration Committee
---
---
Council Members
Ex-officio members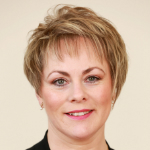 Ms Jenny Pyper, Pro-Chancellor and Chair of Council
Committee membership: GNRC Committee, Resources Committee
Jenny Pyper is currently the Interim Head of the Northern Ireland Civil Service.
Previously she was Chief Executive of the Utility Regulator for seven years before retiring in the autumn 2020. The Utility Regulator is a non-ministerial government department responsible for regulating NI's electricity, gas, water and sewerage industries to promote the long term interests of consumers. Jenny leads a team of around 80 people, mainly engineers and economists and is also co-chair of the Single Electricity Market Committee (SEMC) which regulates the £2.5bn all-island wholesale electricity market.
She is a BSc Honours graduate of Queen's University, Belfast, who joined the NI Civil Service in 1985 and worked in a wide range of economic development areas including tourism, enterprise and inward investment policy, sector training and development and innovation policy. She was appointed to the Senior Civil Service in 2004 as Director of Energy Policy in the Department of Enterprise, Trade and Investment where she managed policy and legislative responsibilities in relation to the electricity, gas and renewable energy industries in Northern Ireland. She moved to take up the post of Director of Regional Planning and Transportation in the Department for Regional Development before being promoted to Deputy Secretary in the Department for Social Development in July 2011, with responsibility for urban regeneration and community development.
She is a Fellow of the Geological Society of London (FGS) and is married with 2 children at university in Glasgow and Manchester.
Declaration of Interest
Board Member - International Centre for Local and Regional Development (ICLRD)
Board Member - Business in the Community (NI)
Fellow of the Geological Society
Fellow of the Energy Institute
Mr David Clements, Honorary Treasurer
Committee membership: GNRC Committee, Resources Committee
Mr David Clements is a Fellow of the Institute of Chartered Accountants Ireland, retired in the summer of 2014 from a career spent with PwC in which the last twenty years had been as a Partner leading Corporate Finance and Strategy services. In the last two years he acted as Chief Operating Officer in Northern Ireland responsible for driving the form's growth agenda.
He retired early to progress interests in the voluntary and not for profit sectors in the areas of education, healthcare and the economically and socially marginalised. David is married with three children.
Declaration of Interest
Managing Director – Phoenix Holdings GmbH
Phoenix Holdings GmbH
Hearts First Ltd
Chairman – NI Hospice & Children's Hospice
Trustee – The McClay Foundation
Fellow Chartered Accountants Ireland
Dr Elaine Way, Pro-Chancellor
Committee membership: Audit Committee, GNRC Committee
Dr Elaine Way CBE is the former Chief Executive of the Western Health and Social Care Trust.
A public servant for 25 years, she was dedicated to the health and wellbeing of the communities she served and led significant reform to meet the needs of patients, families and communities for the 21st century.
Elaine has been central in the development of cross border health links including the development of the North-West Cancer Centre and has consistently worked with Co-operation and Working Together, a cross border organisation dedicated to improving the quality and safety of care in Northern Ireland and the Republic of Ireland.
She previously served as President of the Association of Healthcare and Human Resource Management, and received a special award in recognition of her work. She has also spoken nationally about the transformative care that she led in the Western Trust.
In 2016 Elaine was honoured with a CBE in the Queen's Birthday Honours List.
Declaration of Interest
Trustee St Canice's Church (Parish of Faughanvale), Eglinton. Registered charity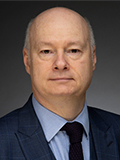 Professor Paul Bartholomew, Vice-Chancellor
Committee membership: GNRC Committee, Resources Committee
As Vice-Chancellor at Ulster University, Paul leads on all aspects of University business. As a dual-focused University delivering excellent teaching and research which spans multiple campuses within a unique geographical and political context, Ulster is one of the UK's most complex large universities.

Paul deliberately steered his career in the direction of leadership and management of higher education so as to be able to be involved in, and to influence, policy and strategy. It is from this position that he feels he is able to make the biggest contribution to enhancing the learning experiences of students, the working lives of staff and deliver positive outcomes for students and society.

On a more personal-focused note, Paul is a National Teaching Fellow (2004), an HEA Principal Fellow (2013) and a Fellow of the Academy of Social Sciences (2017). My research interests have been centred upon video-based discourse analysis, computer-supported collaborative learning and academic professionalism. Paul has taught on UG and PG Diagnostic Radiography and academic staff development programmes.
Declaration of Interest
Vice-Chancellor – Ulster University
Director - Catalyst
Director - Institute for Learning in Higher Education
Previous/ongoing Panel membership of the UK Teaching Excellence and Student Outcomes Framework (TEF). Currently in abeyance
Principal Fellow of Higher Education Academy
Fellow of the Academy of Social Sciences
Appointed members
Dr Joanne Stuart OBE
Committee membership: GNRC Committee
Dr Joanne Stuart OBE is the Director of Development at Catalyst Inc (previously known as the Northern Ireland Science Park). In this role she is responsible for the development of strategic relationships to support the growth of Catalyst Inc and the Knowledge Economy in Northern Ireland.
A former Chairman of Institute of Directors NI (2008-2011), Joanne chaired an independent review on University fees, at the request of the Minister of Employment & Learning, which led to a published report in February 2011.
From 2011 to 2016, Joanne was the Northern Ireland Champion for STEM. Achievements included the introduction of the biannual STEM Careers & Courses Supplements, provision of work experience placements for Careers Service advisors and the creation of the STEM Charter for Business and the STEM Employers Equality Network (SEEN) in partnership with the Equality Commission NI.
Since 2010, Joanne has been the NI chair of the US-NI Mentorship Program, established by former Economic US Envoy to NI, Declan Kelly. The program provides challenging paid yearlong placements for recent graduates with global corporations in the States.
Joanne is currently involved in a number of Boards and Trusts – she is Chairman of Arts & Business NI, Treasurer of Angel Eyes NI and Treasurer of Tides Training. She is also an Ordinary Panel Member of the Competition Appeal Tribunal in London, appointed by Secretary of State for the Department of Business, Innovation and Skills.
Declaration of Interest
CEO – NI Tourism Alliance
Wallace High School Board of Governors
Irish Times Trust
External Independent Members
Mr Alan Hunter
Committee membership: GNRC Committee
Alan Hunter is a solicitor with 30 years experience in the practice of law and in public and private sector administration. He practised early in his career at the Northern Ireland Bar before joining the Government Legal Service. Subsequently he was appointed to the Senior Civil Service (administration) and led the development and implementation of a number of justice policy projects working directly to various Lord Chancellors ( prior to devolution of justice to the Northern Ireland Assembly).
He served as the inaugural Chief Executive of the Northern Ireland Judicial Appointments Commission before re joining the private sector where for almost 12 years he held the position of Chief Executive of the Law Society of Northern Ireland (the regulatory and representative body for solicitors in Northern Ireland).
His current interests are in the regulation of the professions and health care, education and governance and senior appointments.
Declaration of Interest
Ad hoc Member: Statutory Committee - Pharmaceutical Society of Northern Ireland
Regulatory Quality and Improvement Authority Member
Law Society of Northern Ireland (solicitor)
Ms Gillian McAuley
Committee membership: GNRC Committee
Gillian was born in Northern Ireland but emigrated to Canada as a child, returning to live in Northern Ireland in 2001. In Canada, Gillian qualified as a Barrister and Solicitor working in Commercial and Employment Law for a number of years. Since 2015, Gillian has been the Group HR Director for Devenish. Prior to this, Gillian worked within the Viridian Group in various roles for 14 years latterly as the Group HR Director.
She is married with two sons and has a strong belief in the importance of involvement within the community. Gillian has just completed serving 8 years as a Trustee with the NI Hospice. Gillian has recently been appointed to the Board of the NOW Group and as a member of Council for the NI Chamber of Commerce. She also acts as Chair of the Chamber of Commerce sub-committee on Skills and represents the Chamber on the Skills Strategy Advisory Group. Gillian is delighted to be involved with the Governance, Nominations and Remuneration Committee with the Ulster University commencing in January 2021.
Gillian is a Chartered Fellow of the CIPD and recently became a Chartered Director with the Institute of Directors.
Mr David Bingham
Committee membership: GNRC Committee
Before retirement from the NHS in March 2016 he was Chief Executive of the Business Services Organisation for Health and Social Care in Northern Ireland. He had spent most of his career in the public sector, with a background of General Management, Human Resources or Management and Organisational Development. In addition to his health service experience he had spent eight years in the senior civil service where he developed his policy skills.
David has had extensive experience of working on international consulting projects in health care systems. He is graduate of the MBA programme from the Ulster University.
---
Terms of Reference
To be responsible to the Council for:
Remuneration
Approve the University Remuneration Strategy for all staff.
Approve procedures for performance related pay for senior staff.
Oversee the University's policy on the remuneration of the Vice-Chancellor and President and other senior staff, in light of the new code published April 2018 and make recommendations to Council.
Agree and make recommendations to Council on the annual staff pay award and its distribution relative to performance ratings.
To receive an annual report on senior officer expenses.
Nomination
Carry out regular skills, experience and diversity audits of Council, identifying the skills, experience, characteristics and backgrounds that are needed to provide effective governance and report the findings of such audits.
Lead the University's recruitment and selection process for new Council members and Chairs, establishing appropriate selection criteria, person specifications and an information pack for prospective Council members and recommending suitable candidates. In doing so, the Committee should proactively promote diversity on Council.
Oversee the induction, support, training and development of Council members.
Governance
Monitor compliance with the Higher Education Code of Governance and make recommendations to Council on governance issues including the establishment of appropriate policies and practices to enable Council to operate effectively and efficiently and prepare an annual corporate governance statement.
Agree a scheme of delegation and a process of due diligence that defines major risk and allocates responsibility for decisions.
Keep membership of Committees under review, agreeing appropriate changes to Committee membership and notifying the Council of changes in the chairmanship or membership of individual Committees for formal ratification at least annually.
Oversee the annual evaluation of the performance of Council (including a review of individual members, as required) and its Committees and review with Council the results of these assessments, recommending actions for addressing any findings and overseeing the implementation of any resulting action plan for the development of members.
Recommend to Council the arrangements for the four yearly external review of the effectiveness of Council and its committees.
Monitor developing trends, initiatives or proposals in relation to governance issues in the UK and elsewhere in order to determine the extent to which such initiatives impact the University and make recommendations to Council on any changes to be implemented.
Reporting
To provide a report on the work of the Committee to each meeting of the University Council in a format to be determined by the Council.
In reaching decisions the Committee will have due regard to their impact on, and implications for, the University's commitment to ensuring equality of opportunity and good relations as outlined in its Equality Scheme, and associated policies, and where possible and practicable the Committee will ensure that its actions are proactive in this respect.