"The UC-CUBE has improved my detection of focusing deficits and improved my clinical decision-making"
In 2019, hospital clinicians working regularly in paediatric eye clinics participated in a workshop on dynamic retinoscopy at the annual UK Hospital Optometrists Conference.
Twenty participants from across the UK were asked about their current practice in relation to the assessment of accommodative function, specifically; Do you currently use dynamic retinoscopy in your clinical assessment?
Each participant was given the opportunity to add the UC-CUBE to their clinical toolkit and 7-10 months later they were asked the same question again.
The original (blue) and follow-up (orange) proportions are presented below.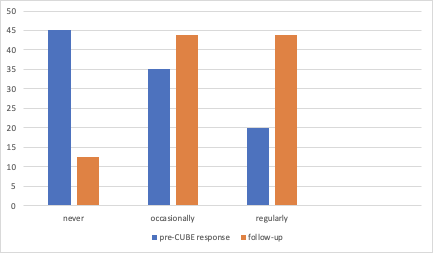 Hospital clinicians who had introduced the UC-CUBE into their paediatric eye clinics they reported that they prioritised the UC-CUBE's use when testing children with learning disabilities; 93% report that they now assessed accommodative function on every child with learning disability.
Furthermore, 92% of those who were now using dynamic retinoscopy to assess all children with learning disabilities in their clinics agreed/strongly agreed benefit to their practice and decision-making.
"The UC-CUBE simplifies the process of conducting dynamic retinoscopy and has given me more confidence in my results"
"I was doing dynamic retinoscopy before, but the UC-CUBE allows me to be more accurate in my prescribing decisions. "
"I now have more confidence in my ability to perform dynamic ret and the UC-CUBE makes the process quick and easy, therefore allowing for more accurate results and a better outcome and experience for the patient."
"Easy and quick to perform and gives us more clinical information on whether to prescribe bifocals… I feel happier that this judgement is based on sound clinical data"
Specific benefit was reported in relation to improved detection of focusing deficits and treatment of near visual impairment. 92% of clinicians using the UC-CUBE to assess children with learning disabilities agreed/strongly agreed that patients had benefited as a result.
"Patients with previously unidentified focusing problems have been prescribed with bifocals to aid them with reading/schooling."
"I use the UC-CUBE on all children with additional needs. I also use it to aid prescribing decisions for some hyperopic neurotypical children."