Ulster University Chancellor
Dr James Nesbitt was installed as our fifth Chancellor in 2010.
---
Dr James Nesbitt
Chancellor of Ulster University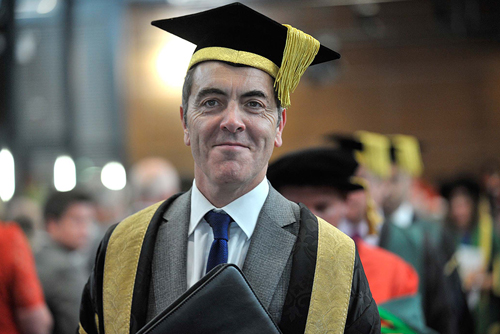 The Chancellor of Ulster University is the renowned actor, Dr James Nesbitt. Dr Nesbitt was installed as our fifth Chancellor in 2010.
Dr James Nesbitt was selected as Chancellor in part for his ability to be an ambassador for the University and his abilities in promoting our activities and interests within Northern Ireland and beyond.
Key to this appointment was his clear empathy with values of the University, his ability to influence widely, his identification with our students and an appreciation of the Chancellor's role in the development of the University.
Since his appointment Dr Nesbitt has officiated at a number of graduation ceremonies and has also introduced recent Chancellor's lectures – an annual lecture where distinguished contributors to public life provide their views on issues of major public importance.
The role of Chancellor
The Chancellor's role includes:
Fulfilling an important role acting both as a figurehead for the University's activities and a role model for the various constituencies the University serves, including our students and local, national and international stakeholders.
Presiding over meetings of the University Court and is also entitled to preside over meetings of our Council.
Formally, under the University's Charter, the Chancellor has the power to confer Degrees, Diplomas, Certificates and other academic distinctions at graduation ceremonies.