Careers
Makers House: Belfast School of Art Graduate Residencies
Read all about the BSOA graduates who are now showcasing their work in Makers House at The Designerie. This great new initiative was spearheaded by Ulster's Employability and Careers department along with our Belfast School of Art.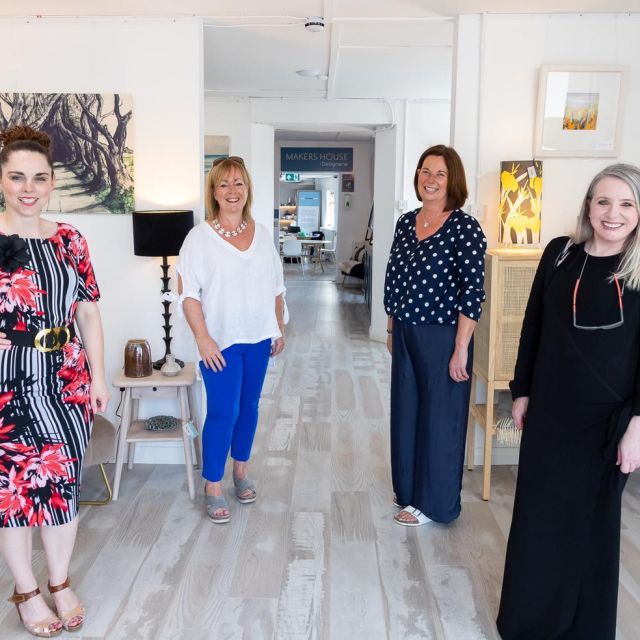 ---
New Partnership with The Designerie & Belfast School Of Art Graduates
We are delighted to announce that UU graduates are now showcasing their work in Makers House at The Designerie, located in Bushmills. Our Careers and Employability department have spearheaded this fantastic opportunity along with our Belfast School of Art.
Designed for Belfast School of Art graduates, who want to launch their own business, we hope this initiative will give them the confidence and experience to engage in enterprise activity in a supported environment.
As graduates in residence, the entrepreneurs will have the opportunity to focus on developing their own brands, liaise with customers and discover the best personal approaches to building their business.
By recognising that there is not one single route to being a successful artist, or arts professional, we are committed to support our graduates by helping them build upon a range of skills to achieve the next steps in developing their career.
The first graduates to showcase their work are Bethan McDonnell, knitwear designer and Gillian Brownlow, artist. Both are already seeing the benefits of this opportunity, as they continue to make sales and gain exposure for their brands.
We look forward to growing this enterprise as Makers House welcomes new students throughout the year.
Read all about our new Makers House graduates in residence below.
Graduates in Residence
Bethan McDonnell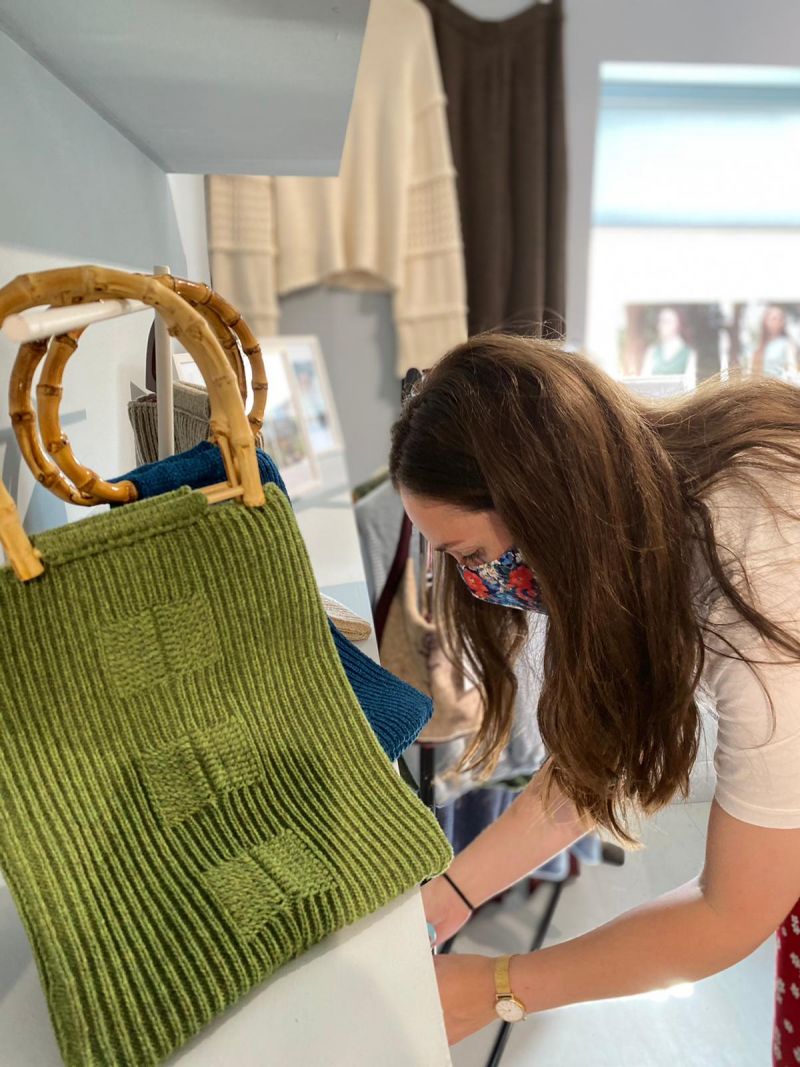 About Bethan
My knitted narratives often begin through exploring literature and the landscapes around me. My final graduate collection, 'Nurtured,' is knitwear garments and accessories inspired by the novel 'The Secret Garden,' by Frances Hodgson Burnett.
This collection presents the theme that neglected and forgotten things become ruined and spoiled, as seen with the characters and the garden of the novel.
But when these things are cared for; they bloom and grow. Sustainability is important in my work; using ethical yarns, having zero waste and recycling where possible inspires the creating and process of my designs.
Bethan is now currently undertaking a year-long internship at Bedeck.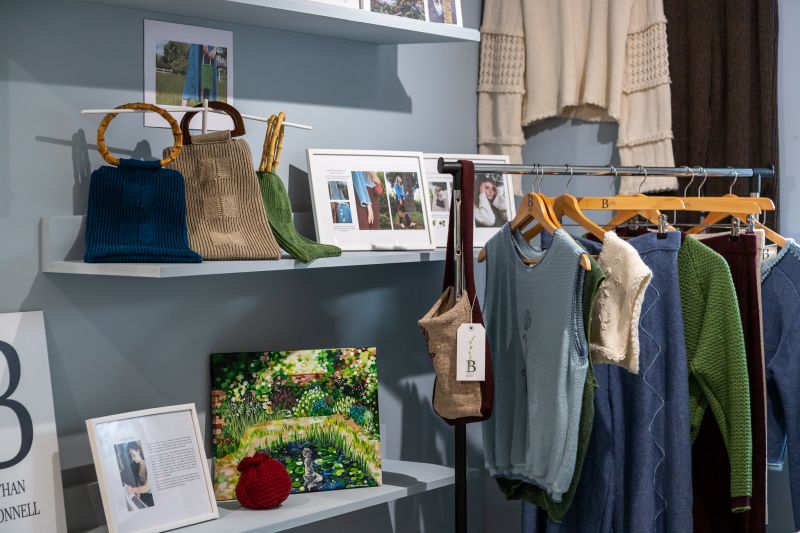 Bethan Shares Her Thoughts and Experiences on the New Partnership
I thoroughly enjoyed the graduate residency in The Designerie and being part of the Maker's House team. The other makers were welcoming, friendly and were able to encourage me and share invaluable advice about their own experiences as designers. I benefited greatly from time spent with the business manager, Leeanne Irwin, who advised me in marketing, pricing, and salesmanship, and she helped me gain more confidence in my own work.

The Maker's House is a wonderful space and was perfect for exhibiting and selling my work in, it has a lovely atmosphere to work in and to interact with customers. Ulster University was also a helpful support throughout my time in The Designerie, as they provided promotional materials such as display boards, postcards and business cards, and the grant helped me to cover the cost of producing products.

These practical essentials helped me be able to advertise my work and make further contact with customers. I will miss working in the Maker's House, as well as the talented people who work there, but I am delighted that the Designerie are going to stock some of my goods in their shop.
Contact Bethan
Robyn Elliot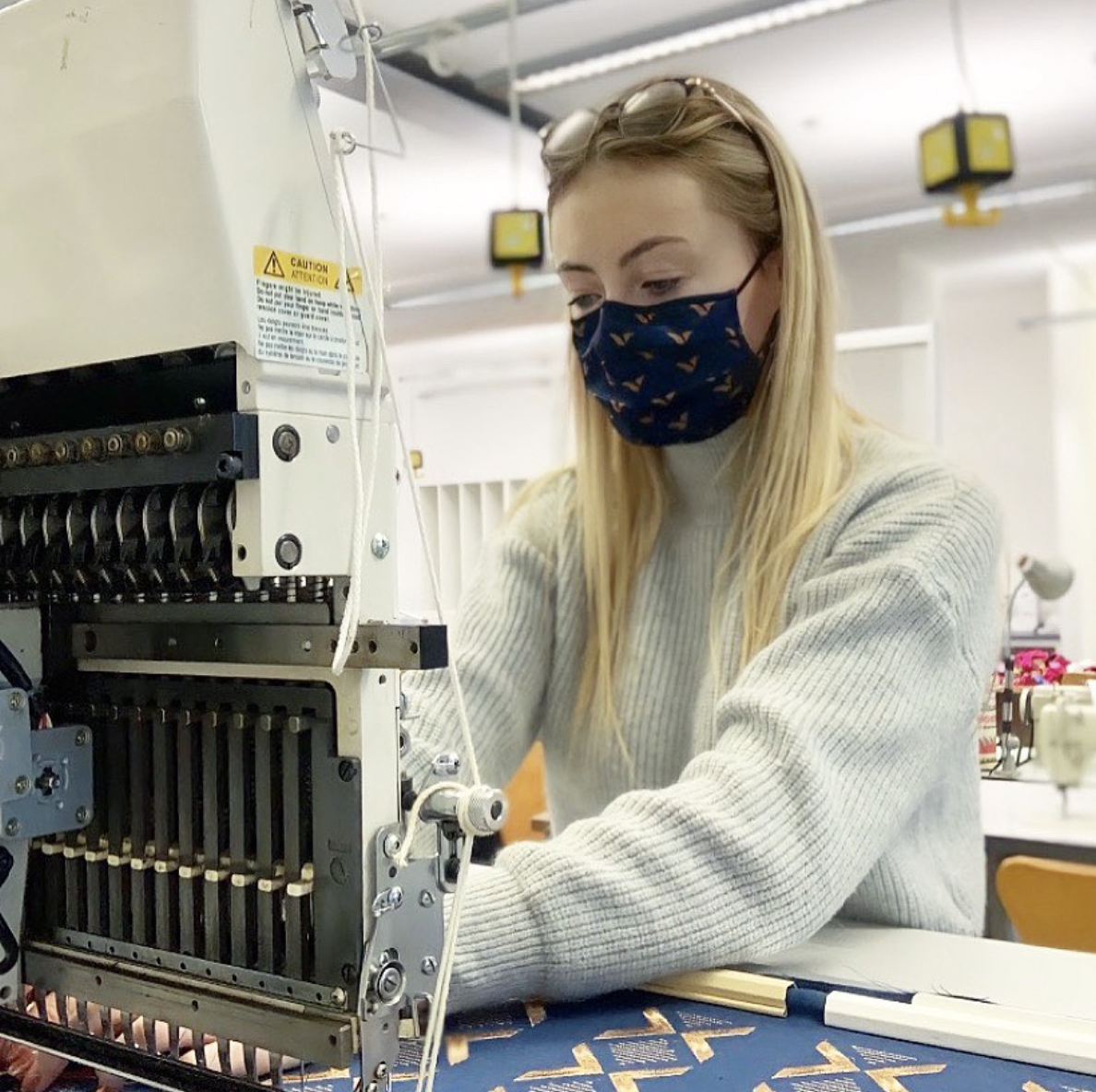 About Robyn
As a textile designer, I specialise in creating designs that are embroidered onto a range of fabrics. My work derives from the urban landscape, where I seek to extract shape and line.
I then deconstruct and simplify my finds through collage, painting, mark making and drawing to create interesting and unique designs that are then embroidered using the multi-needle embroidery machine.
I create my unique designs for use within an interior space as this has always been to create stand out interior designs that grab the attention of your eye.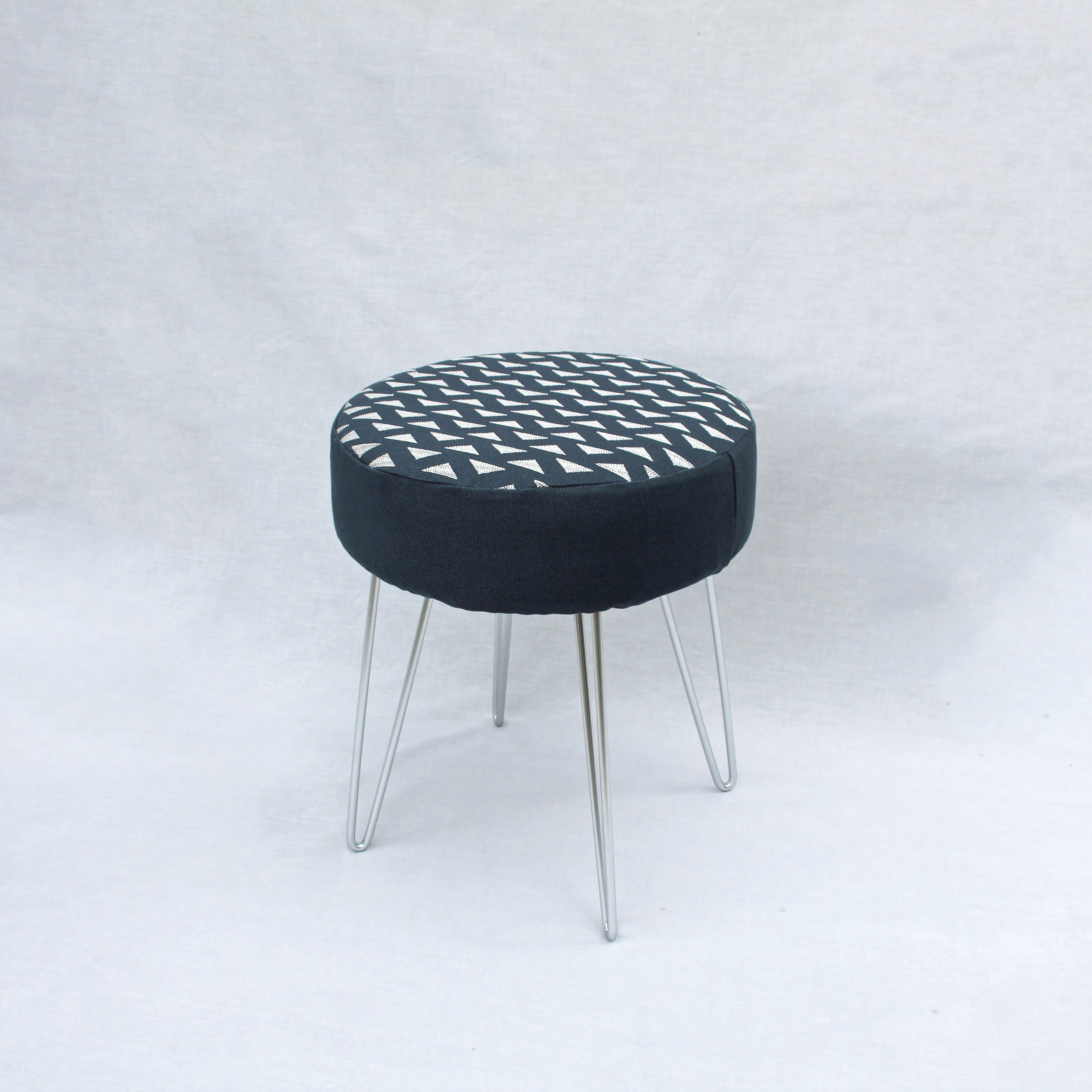 Robyn Shares Her Thoughts and Experiences on the New Partnership
Through the graduate in residency experience I hope that I can continue to design and create and build upon what I have already achieved and allow myself to step out of my comfort zone more and experiment with stitch and fabrics to create exciting interior pieces.
Contact Robyn
Gillian Brownlow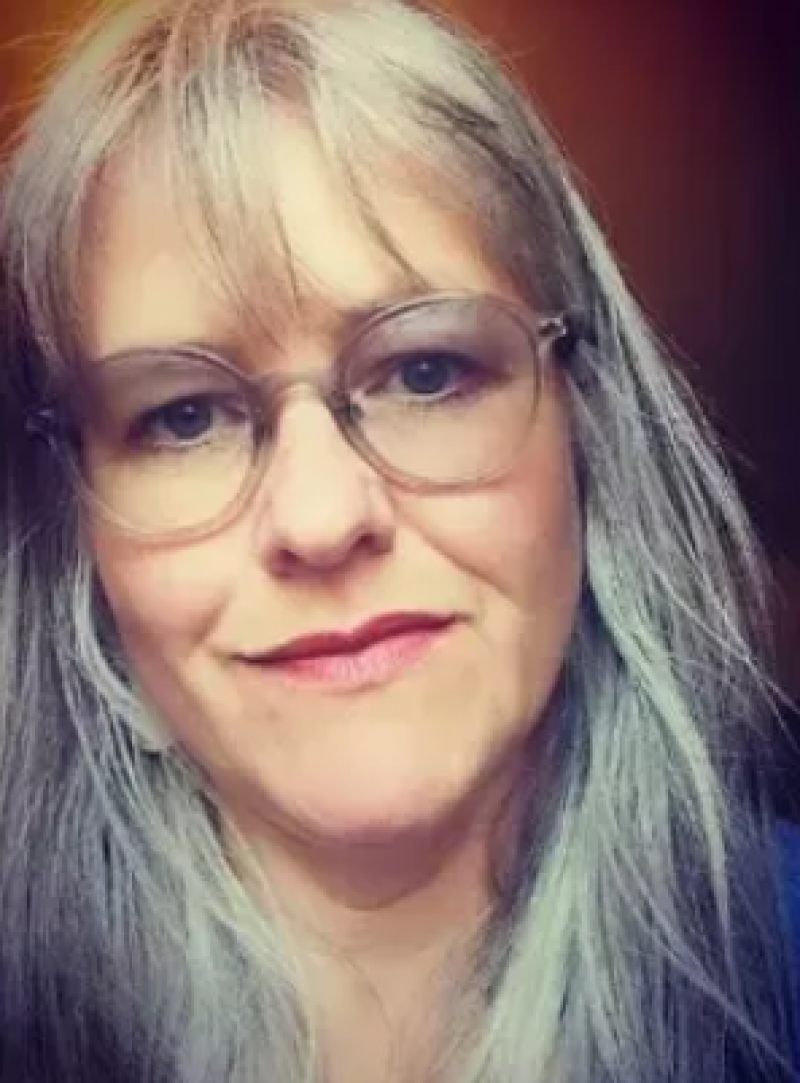 About Gillian
I am inspired by the diverse landscapes of the Island of Ireland. I like to explore natural and cultural aspects and create reflective, meaningful artwork. I am a prolific maker and a gatherer of found and inherited material. that I like to repurpose. My process is visceral, responding to the material and allowing its story to evolve in my hands as I work with it. The evolving narrative gives the foundational structure to my work. I experiment abstractly with colour and my love of fine art, the abstract, and all things textile offers freedom to use whatever medium my current project demands.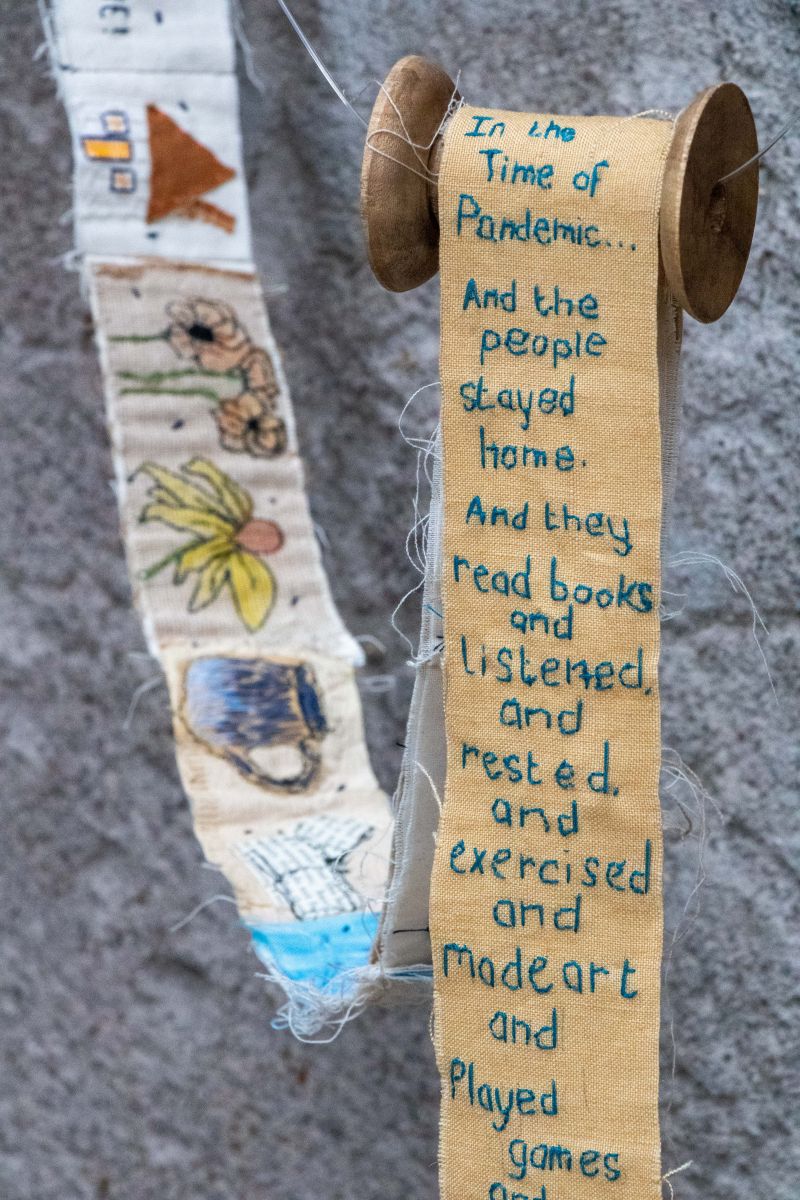 Gillian Shares Her Thoughts and Experiences on the New Partnership
The opportunity to be part of a new venture that the University were embarking on in collaboration with Enterprise Causeway based in The Designerie in Bushmills for the summer, was unexpected, exciting and nerve-wracking!

Being a Graduate in Residence in The Makers House at The Designerie involves becoming part of a larger team of designers, creatives and artists who are passionate about art and craftmanship and who own their own businesses, working out of open fronted shops – or pods as they are called.

It has given me the enviable opportunity to taste what it is like to run a small business, in a safe, friendly and encouraging environment without the costs of overheads normally involved with such a venture.

I have been thrilled by consumer reaction to my work and with the continuing support and business mentoring from the entrepreneurial team, Leanne the Manager and Causeway Enterprise I am looking forward to continuing my residency here for the rest of the year.
I am thankful to the University of Ulster and Enterprise Causeway for opening the door to a new and exciting chapter in my journey as an artist.
Find out more about Belfast School of Art.
Find out more about Careers and Employability.
Careers