Your Stories
Cara McErlain: A little positivity, a massive impact
Cara McErlain recently graduated from her Master's degree in Applied Psychology, Mental Health and Psychological Therapies at Ulster, and has started her own Instagram page to help shine some light, hope and positivity for people on their darker days.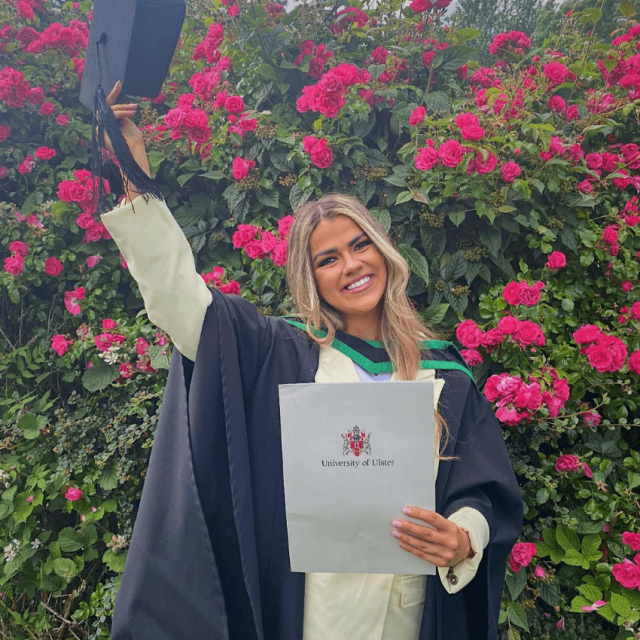 ---
How a 'lil page of positivity' can mean a lot
My name is Cara McErlain, and I graduated from UU in 2019 with a BSc (Hons) degree in Psychology.
I went on to study a Master's degree in Applied Psychology at Ulster University Coleraine, alongside completing Psychological Wellbeing Practitioner (PWP) training.
When I finished my PWP training, I was a fully qualified PWP, and so I could begin applying for full time PWP jobs. I have been working remotely as a full time PWP since September 2021.
Building an Instagram community
It's actually a funny story.
I made my Instagram page when I was in isolation with COVID-19 back in November 2021. I have always wanted to create a page like this, but I never actually bit the bullet and did it, until one day in isolation when I took the leap (every cloud has a silver lining I guess!).
I have always been passionate about mental health and normalising therapy, and so I openly talk about mental health and therapy on this page. I really do hope that one day we can talk about attending therapy as freely as we would if we were attending a doctor's appointment (here's hoping!).
I have always said that as long as I help at least one person from this page, then I will sleep very happy at night. Little did I know what would come from it! I have been overwhelmed by the responses I have received already. It has provided me with so many opportunities, from meeting so many new people, to launching a podcast.

Wellbeing advice
When we think about 'wellbeing', we think of going to the gym and eating healthy, which of course can help and we cannot underestimate the importance of these. However, we can go the gym and eat as healthy as we want, but if we don't deal with what is going on in the inside, our wellbeing will continue to suffer.
How can we look after ourselves from within?
By reaching out for help.
Life is too difficult to go through it alone. Journaling, meditating, positive self-talk and listening to the signs our minds and bodies are telling us are key.
Are you feeling burnt out? Please rest your mind, body and soul.
My favourite quote at the moment is this: "Remember that the world can wait. You should never feel guilty for taking a break and prioritising your mental health".
When you strip it all back really, nothing is more important than your mental health.
The UU community!
There's a very comfortable vibe when you walk into Ulster University - it doesn't feel intimidating, it feels like a little community.
You don't just feel like another "number"- the lecturers genuinely want to get to know you.
Ulster University will always have a special place in my heart, and I really mean that. It's the place where I experienced more growth than I thought was possible.

"Believe in yourself"
My advice for students is to always believe in yourself. You really are so much more capable than you think you are.
If you truly believe in yourself, I genuinely believe you can achieve quite literally anything. If only 18 year old Cara could see me now, I don't think she would believe her eyes! I wish she believed in herself back then. Unfortunately I cannot tell her this now and so this is why I am telling you - strive high, because no dream is "too big".
Check out 'A lil page of positivity' on Instagram.