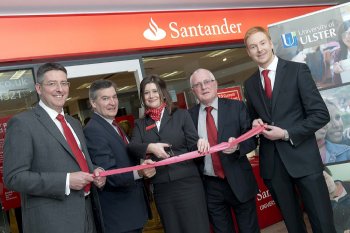 THE first branch of Santander Bank at the University of Ulsterhas beenofficially opened at the university's Belfast campus.
The opening ceremony was conducted by Mr Matt Hutnell, Retail Performance Director of Santander Universities UK, and Professor Richard Barnett, Vice-Chancellor of the University.
The relationship between the University of Ulster and Santander Universities began back in 2011 when the University became a member of the prestigious Santander Universities network which has over 1000 partner institutions in 20 countries.
Welcoming senior Santander representatives to the campus for the official opening, Professor Barnett said that the opening of the branch represented an important milestone in the successful relationship between Santander and the University, revealing that five additional Santander scholarships had been put in place at the University, bringing the total to 14.
For Santander, Mr Hutnell said: "I'm delighted to be here today to open this, our first branch in the University of Ulster.
"The quality of the students' experience is of paramount importance to us. We're eager to support student employability programmes with universities in our network, and to support students as they build their careers.
"Our partnership with the University of Ulster is one of the most successful of all our university links and it's my hope that in the future that we may be able to bring our services onto other campuses of the University.
"We're very proud to be associated with the University of Ulster, and I look forward to deepening and extending our relationship."
Santander currently supports over 1,000 universities worldwide, 66 of which have become part of the UK network since activity commenced in 2007.
Since the Santander Universities programme started in Spain in 1996 Santander has directed £500m towards Higher Education worldwide in the form of scholarships, travel grants, support to special projects, academic and non-academic awards.
Branch manager for Santander at the Belfast campus is Laura MacDonald, who is a University of Ulster graduate.
ENDS
CAPTION:Mr Matt Hutnell, Santander Universities Performance Director, Vice-Chancellor, Professor Richard Barnett, Laura McDonald, Manager, Santander University branch, Professor Alastair Adair, PVC (Development) & Provost (Jordanstown & Belfast) and Luke Ellis, Santander Relationship Director, pictured at the opening of the new University of Ulster branch.