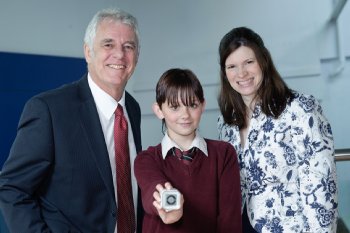 Secondary school pupils in Coleraine have had 'hands on' experience of Geographic Information Systems (GIS), thanks to iMap, an innovative project by the Schools of Environmental Sciences and Education at the University of Ulster.

GIS, which has recently been introduced into the GCSE Geography syllabus, can be used to analyse, manage and present all types of geographical data to give a better understanding of the world about us.

Geography lecturer, Dr Paul McKenzie explained: "It can be used to combine information from a range of different sources to enhance our understanding of how and where things happen, from earthquake modelling in Sumatra to finding the best location for a new local supermarket.

"The aim of iMap was to introduce GIS to Year 9 pupils and get them to understand its relevance by showing them some of the real life applications of digital maps." Around fifty pupils from St Joseph's College and Coleraine College completed the project with the help of both Schools in the University which are based on the Coleraine campus.

They were divided into groups and each group produced a poster of their GIS investigation into the impact of flooding in the centre of Coleraine – just one example of how digital maps can be used in real world situations. iPod shuffles were presented for the best poster, the best team and also for the best individual contribution.

Dr Paul McKenzie continued:"The iMap project was designed, not only as outreach to local schools, but also to encourage links within the University. It was excellent to see both school pupils and University students enjoying GIS in a real world application."

Dr Stephen Roulston led the design of the learning resources with a team of PGCE Geography students. The learning resources were then complemented with geographic data and manuals prepared by GIS students from the School of Environmental Sciences.

Dr Sally Cook said: "The iMap project gives school children an opportunity to work together on an in-depth GIS project and investigate the strengths of Geographic Information.

"We hope this will encourage children's interest in geography and in the new technologies for using geo-spatial data, which are becoming such an important growth area in terms of both economy and employment. We would be keen to support local schools in their efforts to introduce more GIS to their teaching."

The project was funded through Access & Distributed Learning at the University of Ulster through the Outreach Programme. For more information about the iMap project please contact Dr Paul McKenzie (sjp.mckenzie@ulster.ac.uk).