Santander Universities – Long-term investor in Ulster Students
We are delighted to announce the renewal for a further 3 years of our partnership with Santander Universities UK, bringing the total funding pledged to the University since 2011 to £1.33m. Celebrated by an online meeting the VC Paul Bartholomew met with Matt Hutnell, Director of Santander Universities UK and they spoke with student recipients of recent Santander funding as well as key Ulster project leads Shauna McCloy and Chris Shannon.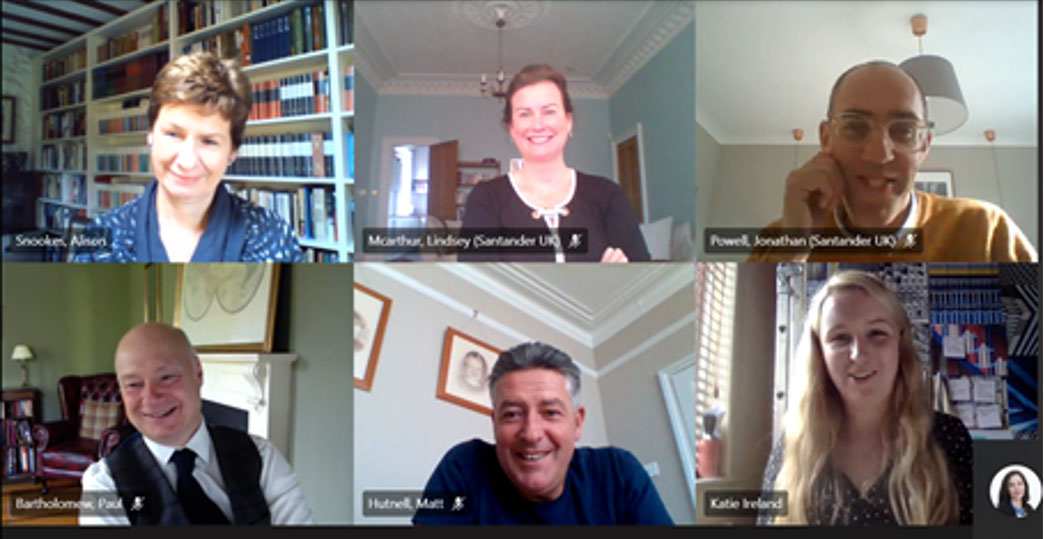 Championing Enterprise, Education and Employability
As a civic university Ulster believes all students deserve the opportunity to succeed, regardless of their circumstances and we have partnered with Santander Universities UK to remove barriers to higher education for students whose ambitions aren't always matched by their means.
Santander Universities' funding has enabled Ulster to help students and alumni boost their career prospects through paid internships or experiencing overseas travel and to support their ability to get the most out of their time at university with scholarships that ease financial pressures.
Passionate about supporting enterprise, Santander funding has helped Ulster empower and enable students to develop, start-up and grow their business ideas through competitions, grants, training, mentoring and networking. Some of the Ulster University entrepreneurs who have been supported by Santander Universities to date include Gareth Irvine (Copeland Gin), Jenny Gregg (Crafted Equestrian), and Sarah McAnallen.
Emergency response to the pandemic
In early 2020, Santander Universities responded quickly to the crisis by redirecting funding and very generously granting additional money to ensure immediate support to alleviate health, educational and economic challenges caused by the COVID-19 crisis. This allowed Ulster to give emergency business support grants to 59 student and graduate start-up businesses ranging from newly launched physiotherapy practices to fledgling designer-makers. We also partnered with Santander Universities, Belfast Charitable Trust, Ulster Community Investment Trust, Halifax Foundation and The National Lottery Community Fund to provide 278 school children in Belfast and Derry~Londonderry with laptops and other IT equipment so they could continue their education at home during lockdown.
Local Partner, Global Reach
Nearly 2,500 Ulster students and graduates have benefited from our Santander Universities funded initiatives so far. Through their Global Programmes – available to all their partner universities -Santander Universities also run professional development opportunities throughout the year that our students, graduates and employees can take part in, for example professional development programmes for female leaders, emerging entrepreneurs, and talented athletes. Our congratulations go to Ulster student Micheál McLaughlin, Co-Founder of CropSafe who recently made it through to the semi-finals of the 2020 Santander Universities Emerging Entrepreneurs programme – well done Micheál!
Follow our Ulster Alumni social media channels where we regularly post these opportunities – and we encourage you to apply!