Magee campus
Magee campus
our vision is aligned to the strategic growth plan for the city and region
Watch the video
Ongoing investment has provided state-of-the-art teaching, research and support facilities for students and staff.
This funding has delivered:
a student residential village offering en-suite accommodation
a new library
the Intelligent Systems Research Centre
the Foyle Arts Building, housing the School of Creative Arts & Technologies
In addition to our teaching and learning facilities, the campus has on-site residential, catering and sports facilities.
Our sports facilities include a multi-purpose sports hall, fitness suite and studio as well as a grass and floodlit synthetic 3G pitch with pavilion and changing facilities next to the student halls of residence at the Duncreggan Student Village.
Students can also use a range of facilities in the city and outdoor activities include sailing at nearby Fahan Beach, rowing and canoeing on the River Foyle and hill walking and climbing in nearby Donegal.
The U-Eat restaurant offers cooked breakfast, morning coffee, hot lunches, salads and snacks through out the day.
Moka serves fresh food combined with spectacular views over the River Foyle.
The Students' Union provides fresh food, snacks and refreshments at the Bunker Café and there is a Jitters gourmet coffee and sandwich shop and a cash machine.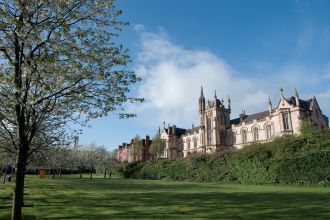 Residential accommodation at the Magee campus.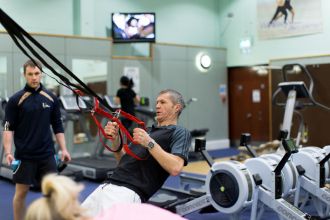 Our facilities in Magee cater for many sports ranging from archery to volleyball, and are open to students and members of the public all year round.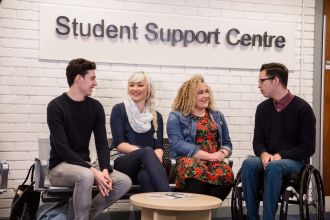 At Student Support we provide many services to help students through their time at Ulster University.