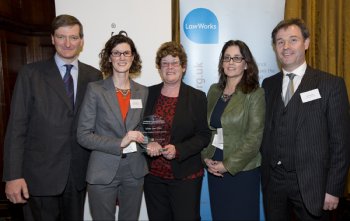 Law students at the University of Ulster are securing tribunal victories for people across Northern Ireland, thanks to an award-winning initiative providing free legal advice to the public.

The Ulster Law Clinic, which this week received a national UK award for its work, offers free advice and representation on employment and social security issues to people who often have nowhere else to turn.

The Clinic, which is unique on the island of Ireland, was set up after researchers at the University of Ulster's School of Law identified a significant unmet legal need for employment and social security tribunal users here.

It is staffed by postgraduate law students on the LLM Clinical Legal Education who work under the supervision of Law School staff, providing a unique opportunity for them to gain unrivalled experience of working on live cases and securing skilled-based training.

Students are currently taking cases referred by the Labour Relations Agency, the Equality Commission and advice agencies including migrants' and women's groups. They are also representing members of the public, who can contact the Clinic directly.

Dr Grainne McKeever, School of Law, said:
"The University of Ulster is leading the way in postgraduate law provision and is one of the only law schools across Britain and Ireland to offer hands on training in social security law.

"The Ulster Law Clinic provides a unique and invaluable service to tribunal users and highlights the university's commitment to making a real difference to individuals and communities across Northern Ireland.

"The Clinic has built partnerships with legal communities to maximize its impact and works closely with local solicitors. Our students also volunteer in the pro bono Legal Support Service in the Law Centre (NI) and in Citizen's Advice.

"In an increasingly competitive economic climate, the University of Ulster is working on the most effective and creative methods ofequipping law graduates with relevant, key skillsthat will ensure they can excel in their future careers."
Underlining the staff and students' unique and far-reaching achievements, the Ulster Law Clinic was named 'Best New Student Pro Bono Activity' at the LawWorks and Attorney General Awards hosted in the House of Commons earlier this week.

LawWorks is the UK's leading pro bono charity for solicitors, in-house counsel and mediators. Their high-profile annual award ceremony recognises outstanding achievement in the field of legal pro bono work.