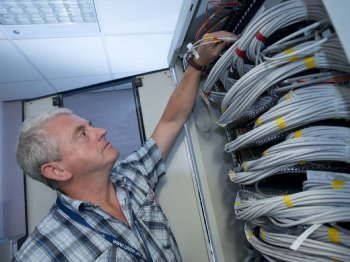 The quality and relevance of the internationally-leading research taking place at the University of Ulster's Coleraine campus has been recognised today by the US-based Institute of Electrical and Electronics Engineers (IEEE) – the world's largest professional organisation advancing technology for humanity. Ulster has been selected to join a team of 21 internationally renowned institutions and companies as founding members of the IEEE InterCloud Testbed Project.
Te Project will enable the founding members – drawn from the United States, the Asia-Pacific region and Europe – to collaborate on international research and innovation in cloud technologies and protocols.
Uster project lead, Professor Gerard Parr, Chair in Telecommunications at the School of Computing and Information Engineering in Coleraine, explained:
"Every time we send messages by email or mobile phone, access Google, make an online purchase on eBay, or buy an online movie, we are using various forms of cloud technology without knowing that our information is often hosted on a server which may be miles away or even in a different country.
"hrough this Project, we will investigate how clouds and cloud services can be used even more efficiently in a wide range of complex applications such as government services, Smart City applications and machine-to-machine communications (for sensor applications in areas such as healthcare, transport, and energy monitoring).
"nevitably, with these new services and market opportunities comes the requirement for access to sophisticated and expensive experimental test-bed equipment. Allied to this, a network of skilled computer scientists, electrical engineers and software developers will collaborate globally to solve engineering challenges and experiment with future systems designs that can feed into international technical standards for use by industry."
Pofessor Parr added: "The Information and Communications Engineering Group at Ulster is honoured to be involved with this ground-breaking IEEE InterCloud initiative. This recognition is of direct relevance to our international research programme being led in collaboration with my colleagues Professor Bryan Scotney, Dr Philip Morrow, Professor Sally McClean and Dr Adrian Moore.
"t also reflects key research we are conducting as part of EPSRC projects, namely the 'India-UK Advanced Technology Centre' and our 'IT as a Utility' initiative. It also links directly to our recently awarded InvestNI R&D Project – 'Digital Innovation Infrastructure for Next Generation Internet' project which will provide the Coleraine campus with the fastest laboratory communications network access of its kind between Europe and Northern America via the Kelvin trans-Atlantic fibre."
Dvid Bernstein, IEEE P2302 Working Group Founding Chair, originator of the IEEE InterCloud Testbed project and the project's chief architect, said, "This project will enable a significant step in the evolution and maturation of cloud computing. Just as the ARPANET project made the Internet real, this IEEE InterCloud Testbed project will make the InterCloud real and provide a springboard for the InterCloud to become a commercial reality."
Wlcoming the announcement, Professor Hugh McKenna, Pro-Vice-Chancellor, Research and Innovation, commented: "The University of Ulster is an organisation where knowledge is generated, challenged, tested as well as being taught. We are delighted to bring such expertise into this prestigious global initiative. This is precisely the type of transformational interdisciplinary research that we are proud of in Ulster and we take the IEEE approach as a vote of confidence in our work."
IEE, a large, global technical professional organisation, is dedicated to advancing technology for the benefit of humanity. Through its highly cited publications, conferences, technology standards and professional and educational activities, IEEE is the trusted voice on a wide variety of areas ranging from aerospace systems, software engineering, computers and telecommunications to biomedical engineering, electric power and consumer electronics.