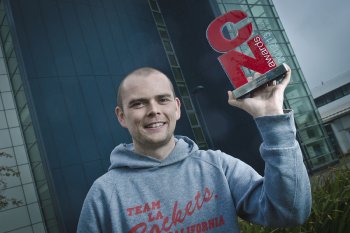 A University of Ulster PhD student has been named Dietetics Student of the Year in a national competition.

Father of two, Caomhan Logue (33) from Derry~Londonderry, was one of three students from across the UK to make the final cut in the Complete Nutrition competition and he collected the top prize at an awards ceremony in London.

Caomhan graduated from Ulster with a First Class honours degree in Dietetics in July 2012 and is now in the second year of his doctorate studies within the Northern Ireland Centre for Food & Health (NICHE) at the University's Coleraine campus.

After leaving St Columb's College, Caomhan studied History at Ulster's Magee campus, graduating in 2001. He joined the Civil Service and spent the next five years working with the Water Service in Belfast and with the Driver and Vehicle Agency in both Coleraine and New buildings before deciding he needed a career change.

"I was doing a lot of travelling to and from work and over time, I got really interested in food and diet – maybe it was all those dodgy lunches that got me thinking – and I decided to go back to university to study dietetics."

Caomhan admits that returning to university as a mature student made him all the more determined to succeed.

"I was certainly a bit older and maybe a bit wiser than I was when I had just left school so I was very focused and knew exactly what I wanted.

"Like a lot of others, I probably didn't give enough thought to the subjects I did at A level – it's very hard for a 16-17 year old to know what they want to do. I hadn't studied Science at A Level so I completed an Access course in Science at the North West Regional College to meet the Dietetics course entry requirements. Staff have been great in supporting me throughout."

He successfully juggled his full time job with the demands of the full time Access course by using up all his holidays and flexi-leave but says it was a sacrifice worth making to help him become a dietitian.

Once Caomhan secured his place on the course, he was determined to give it his best shot, not least to justify the great financial sacrifice that he and his partner Melissa had made to help achieve his goal.

Caomhan is now working towards his PhD as part of a collaboration with the National Institute for Public Health and the Environment (RIVM) in the Netherlands. His project, entitled "Biomarkers for intakes of low-calorie sweeteners: investigating dietary intakes and health" will involve a novel method of measuring sweeteners and using this to investigate their effect on health.

Congratulating him on his success, Caomhan's PhD supervisor, Dr Alison Gallagher said the award recognises Caomhan's academic ability and also the personal sacrifices he made to become a Registered Dietitian.

"He is an ideal role model for other students and continually demonstrates an enthusiasm and thirst for developing his knowledge and skills, attributes he now uses to motivate and support other students.

"Caomhan is an exemplary student: he achieved a First Class Honours degree in the summer of 2012, and was offered a temporary dietetic post almost immediately on receiving his HCPC registration - the first in his class to secure employment."

She added: "Caomhan is now undertaking a full-time PhD and constantly seeks opportunities to use his dietetic skills to support the teaching and learning of other students, and in community based nutrition projects."

Human nutrition research at the University of Ulster is conducted in NICHE, a centre of excellence officially set up with EU structural funds in 1996 to provide greater understanding of diet-related health issues.

Nutrition research has formed a significant part of the University's Research Assessment Exercise (RAE) submission in Biomedical Sciences since 1989. NICHE has been ranked 1st in the UK in the RAE of 1996 and 2001, and in the last RAE in 2008 NICHE was ranked 1st in research power. NICHE has 27 academic, 4 technical and 15 research staff, as well as over 20 postgraduate research students.