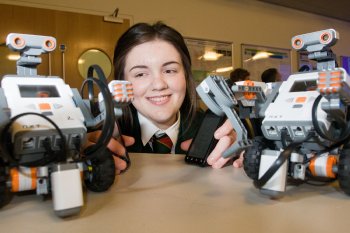 The University of Ulster's Widening Access programmes to encourage a greater uptake in computing and engineering coursescontinue to go from strength to strength.The 'Widening Access By Introducing Programming in Schools' (WABIPS) projectat the university's Magee campushasnowcompleted its thirdyearwithboth the number of schools and pupils involvedincreasingyear on year.
Dr Sonya Coleman, senior lecturer in the School of Computing and Intelligent Systems explained that the WABIPS projectwasdesigned to helpYear 14 pupilswith the transitionfrom school by giving them a taste of what it would be like to study computing at university.
"It was designed to introduce basic programming concepts-such as variable declarations, conditional statements and loops-in a fun and engaging way.
"These topics areall covered in the first year of a computing degree,so theprogramme wasspecificallydesigned to help sixthformers make informed decisions about their university choices.
Dr Coleman added the WABIPS projectalso gave university lecturersan opportunity to work with local schools to promote STEM (Science Technology Engineering and Maths) subjects, particularlyto girls who are still typically under-represented in these areas.
"In the longer term, we would hope that it could encouragesome ofthem to pursue a career in computing or engineeringrelateddisciplines," she said.
Twostafffrom the School of Computing and Intelligent Systems,Karl McCreadieand AnneHindsvisited the participating schools each weekfromSeptember 2012toMay 2013to deliver the programming course.
In total44pupils fromThornhillCollege, St Cecilia's College, St Mary's College,LisnealCollege andLimavadyHigh School completed the courseandreceived certificates at the presentation at Magee.
The feedback from the schools, the participating pupils and the tutors involvedwas very positive.
Natalie Bradley (17), ayear 13pupil at St. Cecilia's College said she found the WABIPS programmereally useful.
"It gave me a better understanding of coding and programming which was a great help for my school coursework.
"I'm studying ICT and Health and Social Care at school so I was really enjoyed learning about how new technology is being used to improve health care, she added.
Caption Natalie Bradley (17) from St. Cecilia's College, Derry demonstrating how a phone App developed in AppInventor can be used as a remote control for the Lego MindStorm Robots for a game of mini remote control robot wars. Natalie was one of the local sixthformers to complete the Introduction to Programmimg course at the University of Ulster's School of Computing and Intelligent Systems Centre at the Magee Campus.