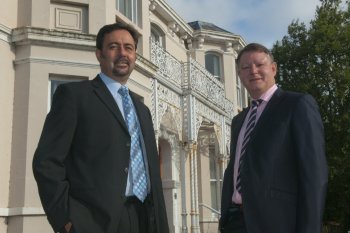 Professor Brandon Hamber INCORE (on left) and Gavin Killeen, President Londonderry Rotary

Politicians,business leaders, policy makers,academicsand peace activistsinvolved inpeacemakingandpeacebuildinginitiatives around the world will be in Derry this weekend for aninternationalpeace conference.
The Rotary Club of Londonderry is partnering with INCORE,theUniversityofUlster's peace and conflict research institute, to host'FromPeacemakingtoPeacebuilding- Journeys towards Reconciliation'.
The three-day event will lookatmaking, building and embedding peace frombothlocal and international perspectives and conclude with a series of Masterclasses on peacebuilding atUlster's Magee campus on Sunday.
Keynote speakers will include former Basque President Juan José Ibarretxe Markuartu, Roelf Meyer, chief negotiator for the National Party Government in South Africa, John J Cullinane, US software entrepreneur and Chouchou Namegabe Dubisson from Democratic Republic of Congo, and Rotary's international presidentSajuijiTanaka from Japan.
Other contributors will include deputy First Minister MartinMcGuinness, OFMdFM Junior MinisterJonathan Bell, the award winning BBC journalist Fergal Keane, the DUP's Gregory Campbell, journalist Eamonn McCann, former Police Ombudsman Baroness NualaO'Loan,former Progressive Unionist Party leader Dawn Purvis, and Alan McBride who sits on the Human Rights Commission.
INCORE Director,Professor Brandon Hamber,said INCORE, which has since 1993 been the premier conflict research institute on the island of Ireland and is associated with the United Nations University, hadworked closely with Rotary to put together a conference programme to give delegates a unique opportunity to learn from otherpeacebuildinginitiatives.
Professor Hamber said: "Since the ending of the Cold War, there has beena proliferation of conflicts based on ethnic, religious, political and social issues."Thisis an ideal forum to look atcreativeapproaches to the prevention andmanagement of such conflicts.
"Theconference, which is being organised as part of the 2013 UK City of Culture programme,makes good on the promise to engage in a purposeful enquiry into our past, present and future."
Professor Hamber continued: "It is appropriate that it is being held in Derry~Londonderry, a city shaped by periods of conflict, reconciliation and, now, regeneration.
"BothINCORE and Rotaryare wellplaced, in a society emerging from conflict, to inform this dynamic and significantevent.
"While there is some way to go in terms of embedding a sustainable peace inNorthern Ireland, there is much to learn from the peace process hereand we can all learn from what is happening in other parts of the world."
Last month, INCORE and the local Rotary club hosted a series of discussions and workshop to draft the 'Derry Proposals for Colombian Peace'.
The proposals are structured around the five key themes that form part of the Colombian negotiation agenda: an end to hostilities, victims' rights, political participation, land reform and drug-traffickinginColombia.
Among those attending the weekend conference will be Juan Manuel Uribe, Head of Mission, Colombian Embassy London who will be presented with the 'Derry Proposals for Colombian Peace', giving delegates aunique opportunity to witness peacebuildingas it unfolds.
TheDerry~Londonderry peace conference will be the culmination of Rotary International World PresidentSakujiTanaka's year ofPeaceThroughService, which includedthree other Peace Forums in Berlin, Honolulu and Hiroshima.2013 is also the 400th anniversary of the granting of the city's charter, the 15th anniversary of the Good Friday Agreement, the 90th anniversary of the Rotary Club of Londonderry and the 20th anniversary of the founding of INCORE at theUniversityofUlster.
"Our Club decided to celebrate its 90th anniversary and make a telling contribution to Rotary's year ofPeaceThroughService'," said Gavin Killeen, President of the Rotary Club of Londonderry.
"We teamed up with INCORE, an international centre of excellence for peace and conflict studies and theUniversity ofUlsterwhich has pioneered practice-based learning in conflict and developed a global network ofpeacebuilderssince the 1970s, to design a stimulating programmetoattract Rotarians and friends from across the globe tovisitthecity.
"It will offer delegates to learn about the Northern Ireland Peace Process and of emerging reconciliation in other parts of the world, with participation from many of those who have made, and continue to make, telling contributions.
the Rotary Global Peace Forum Derry~Londonderrytakes placein the Millennium Forum on Friday May 24 and Saturday May 25. The Masterclass series will be at the Magee campus on Sunday May 26 2013 from 10 am until 1 pm. Places are free but with only a limited number of places, booking is advisable. To book a place, please contact INCORE at 02871 675575.For further information on the conference programme and speaker bibliographers, go towww.rotaryglobalpeaceforumderry-londonderry.com