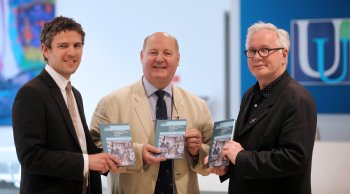 Dr David Mitchell, Professor John Brewer and Professor Gerard Leavey at the launch of their new book entitled,
'
Ex-Combatants, Religion and Peace in Northern Ireland', at the University of Ulster's Belfast campus
The first book to explore ex-combatants' relationships with religion has been launched at the University of Ulster's Belfast campus.
'
Ex-Combatants, Religion and Peace in Northern Ireland'
, written by Professor Gerard Leavey and Dr David Mitchell from the University of Ulster with Professor John Brewer, Queens University, Belfast, sheds new light on the interplay of religion, identity and violence in Ireland.
Based on original interviews with ex-combatants from across the political and religious divide, the book reveals the religious outlooks that shaped their identity.
Professor Leavey, Director of the Bamford Centre for Mental Health and Wellbeing at the University of Ulster's Magee campus, said: "This book offers fascinating insights into the very complex relationship between the various people from loyalist and nationalist communities who were involved in violence and the churches.
"It explores, through the perspectives of ex-combatants, how the conflict in Northern Ireland, while certainly not a religious one, was entangled with religion in various and complex ways."
He added: "Much has been written about the influence of religion on the Northern Ireland conflict and the part played by ex-combatants in the peace process. Yet surprisingly, we know almost nothing about the religious outlook of ex-combatants themselves.
"Did they consider themselves religious? Was religion integral to their political identity? How do they view the position of their respective churches during the troubles? Does religion help them cope with the past?
"This book is the first to address these questions and also shows how the case of Northern Ireland may help illuminate the current international debate around religion and peace-making."