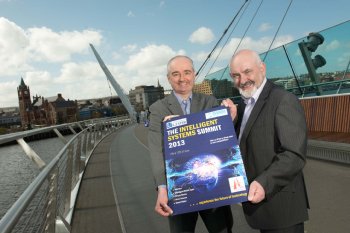 ProfessorMartin McGinnity, Director of the Intelligent Systems Research Centre (ISRC) at the University's Magee campus with Peter Devine, Head of Business Development, ISRC, promoting the Intelligent Systems Summit which takes place in the City Hotel, Derry~Londonderry, June 11 - 12.


World renowned experts in cyber security, robotics, brain science and energy efficiency will be among the keynote speakers at a major international conference hosted by the University of Ulster next month.
The Intelligent Systems Summit 2013, hosted byUlsterin association with theIreland's leading business publication, the Sunday Business Post, takes place at the City Hotel, Derry~Londonderry from June 11 – June 12.
The general theme of the summit is 'Creating IT Systems of the Future'.
Professor Martin McGinnity, Director of the Intelligent Systems Research Centre (ISRC) at the University's Magee campus, explained the thinking behind the event.
"Intelligent Systemsare becoming more and more pervasive and are impacting across many sectors -everything from healthcare innovations, intelligent energy systems, manufacturing industries, cognitive robotics and high performance computing," he said.
"Future IT systems will incorporate more and more intelligent techniques, in a wide range of applications, taking inspiration from the extremely efficient and low power information processing paradigms of biological systems.
"The summitwill provide an excellent opportunity for anyone working with new technologies to hear first hand how the latest developments in Intelligent Systems could affect them."
Contributors will range from major business leadersrepresenting a broad spectrum of industries to government officials, senior decision makers to internationally recognised academic experts in the area of Intelligent Systems.
Professor McGinnity continued: "Mobile, social, cloud and big data technologies are converging, creating an explosion of information access and usage.
"IT systems of the future will make use of adaptive, learning, cognitive and bio-inspired systems as well as distributed and embedded control and sensing. These novel technologies will play an increasingly important role in providing responses to major societal challenges such as an ageing population, health and social care, sustainable production, transport, education and security."
The programme is divided into six key themes, each focussing on a specific aspect of Intelligent Systems:
Future computingSecurity/cyber securityEnergy efficiency manufacturing, Energy efficiencyCognitive roboticsBrain scienceBig data
Keynote speakers confirmed include: Martin G Curley, vice president at Intel Corporation and director of Intel Labs Europe, the company's network of more than 40 research labs, development centres and open innovation collaborations across Europe; Dr Oliver Verscheure, Senior Research Manager, Big Data Analytics&Systems, IBM; Derek O'Carroll, Symantec, VP, Security Business Practice EMEA;Information security expert Dave Whipple, Director and CTO Security, General Dynamics IT, USA; Zoe Webseter, head of technology at Technology Strategy Board; Steve Cousins, President and CEO Willow Garage Robotics, USA; Professor Scott Kelso, Florida Atlantic University, USA and Visiting Professor at the Intelligent Systems Research Centre at Magee; and Simon McDowell, Chief Operating Officer EMEA, New York Stock Exchange (NYSE) Technologies.
Peter Devine, Head of Business Development at the ISRC, said the summit willprovide an exclusive business-to-business platform for anyone working with new technologies to share, network and engage in a focused interactive environment with other IT professionals.
"The programme reflects the important role of intelligent systems and should be of interest to a wide audience, particularly professionals responsible for:Complex Systems Design and Analysis; Smart Systems and Intelligent Automation; Intelligent Systems in Healthcare Innovations; Cyber Security; Venture capitalists/investors; Financial institutions; entrepreneurs in the tech sector; academic researchers in the area of Intelligent Systems," he said.
To access the full conference programme click onwww.intelligentsystemssummit.com/.