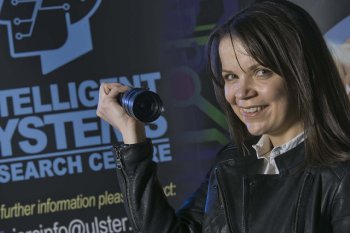 University of Ulster scientists are developing a new hi-tech process for identifying individuals which could revolutionise the security industry.
The cutting edge processes being developed by Dr Joan Condell, Professor Girijesh Prasad and research associate PratheepanYogarajahin the Intelligent Systems Research Centre on the Magee campus can identify individuals by their gait or the way they walk.
The new system could have a wide variety of applications, such as improvingsecurity at airports or high security facilities.
Lead investigator DrCondell explained how they had usedemerging biometric surveillance techniques to develop IdentiGait, a camera-based intelligent surveillance software solution.
"Biometrics refers to the technologies that measure and analyse distinctive human characteristics. Physiologicalbiometrics can identify individuals from their physical features, such astheir voice, DNA or fingerprints.Behaviouralbiometrics relate to theirbehaviour, including theway they walk."
Biometric identifiers are a very reliable way of screening individuals, Dr Condell added.
"Unlike the more traditional means of access control, such as driver's licence, passport, the use of a password or PIN (personal identification number), biometric identifiers are unique to individuals and cannot be passed off as belonging to someone else," she said.
"Because of this, they are increasingly used to improve security screening."
Professor Prasad explained howIdentiGait would effectively automate the identification process by using feature extractiontechniquesto capture gait biometrics.
"It could be used to identify potential suspects of crime or terrorism from CCTV footage and then monitor their movements without their knowledge. It could have many different applications, such as helping to improve security at airports or high-security civilian or military facilities."
Professor Prasad said that unlike other forms of security screening or identification,IdentiGaitis non-invasive, which could give authorities more time to take preventative actionwithout alerting the suspect.
"IdentiGait could be used to identify suspects without their knowledge or co-operation. So, even when their facial features are covered, or when they are in disguise or using false documentation, they could still be recognised from the way they walk."
"The gait of individuals as they approach security screening at an airport could be compared to an existing database of CCTV footage, perhaps even before they enter the airport concourse or during initial security checks," he continued.
Research associate Pratheepan Yogarajah, who developed theIdentiGait softwarethrough his PhD studies,said they are now working on a suite of products for a range of security surveillance and monitoring scenarios.
"The overall aim of this IdentiGait project is to prove the applicability of our gait-basedhuman identification methods,intensively testing our solutionacross a range of secure environments."
Professor Hugh McKenna, Pro Vice Chancellor for Research and Innovation at Ulster said the University's aim istodevelop further a culture where research, discovery, creativity and innovation are encouraged and appropriately supported.
"IdentiGait is a perfect example of how world leading research can be commercialised to make a positive impact on the economy and society," said Professor McKenna.
Ulster's advanced biometrics research has sparked keen commercial interest. The research team has already had discussions with three Northern Ireland companies and they are currently trailing prototype software for a variety ofspecific security scenarios.
The research to date has been funded from a variety of sources, including the Ulster's Office of Innovation Proof of Principle Fund,InvestNI, the Higher Education Innovation Fund and the HE/FE Collaboration Project Fund.
Tim Brundle, Director of Innovation at Ulster said the links between academia and local industry have always been important for the prosperity of the Northern Ireland economy.
"The current economic climate has brought these links into even sharper focus as businesses realise the need for competitive advantage.IdentiGait is just one example of the commercial potential of the high calibre research by Ulster academics."
Computer Science research at the University of Ulster was placed amongst the top universities in the UK in the last Research Assessment Exercise. It was ranked 15th for research power, moving up from 49th place in the previous RAE.
The University of Ulster's submission of 41 staff was the 8th largest in the UK, with 55% of the submission judged to be world-leading or internationally excellent, and 90% internationally recognized.
Computer Science is a highly competitive discipline - the 3rd largest unit of assessment in the UK, involving all of the leading universities.
Caption: Lead investigator Dr Joan Condell