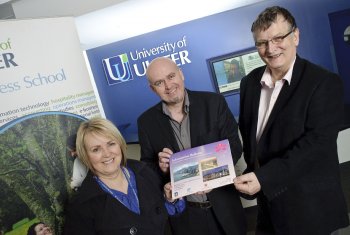 The public's mistrust of national statistics came under the spotlight during discussions with a leading UK statistician at the Ulster Business School in Coleraine.
Richard Laux, who has been responsible for the complete audit of UK National Statistics and the drafting of the Code of Practice for Official Statistics, held talks on campus with senior lecturers Derek Bond and Dr Elaine Ramsey.
Mr Laux, who is also a member of the Royal Statistical Society's Council, said: "It's vital that official statistics are seen as trustworthy – if they're not then they won't be used by those who make decisions about how resources should be allocated, or how services should be delivered to the public.
"The work that Richard Alldritt, the Statistics Authority's Head of Assessment and I have been leading shows that there is much in which users of statistics can have confidence in – in most cases statistics are presented impartially and objectively, in environments characterised by integrity and professionalism.
"Of course more needs to be done to improve the statistical service and strengthen trust including the way in which statistics are communicated to the non-expert user. A lot of work on this is in hand, which will greatly improve the value of official statistics to the public. The international research being undertaken by the Ulster Business School will help us understand how this can be achieved."
Derek Bond and Dr Elaine Ramsay have been carrying out research on the impact of management and governance structures in national statistical offices.
Dr Ramsey added: "There is a need to adopt more effective and efficient management practices to accommodate the rapidly changing public sector operating environment, and which will give the public more faith in NSO service provisions."
During the meeting, Mr Laux also discussed the UK Statistics Authority's contribution to the upcoming session being organised by the Business School at the World Statistics Congress in Hong Kong in August 2013.
Caption: (left to right) Leading UK statistician, Richard Laux with the Ulster Business School's Derek Bond and Dr Elaine Ramsey.