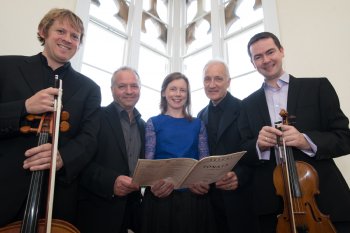 'The River Still Sings', an innovative piece of music celebrating the cultural and historic links between Derry~Londonderry and London, wasperformed at the University of Ulster's Magee campusat the weekend.
Composed by Professor Frank Lyons, and set to a new text by acclaimed local author Seamus Deane, the multimedia project features visuals by Professor Paul Moore and 'virtual narration' by University of Ulster Chancellor James Nesbitt.
The complex task of directing the technical aspect of the performance was completed by Greg O'Hanlon, School of Creative Arts and Technologies at Magee, and Dublin-based developer Tim Redfern.
'The River Still Sings' will be performed by the Fidelio Trio as part of the Walled City Music Festival on Sunday 21 July in the Great Hall.
Commissioned as part of the 400th anniversary celebrations between Derry~Londonderry and the City of London, the unique work was premièredto great critical acclaim in London last month.
Professor Lyons, Director of Arts and & Humanities Research Institute at Magee, said: "This pieceexplores juxtapositions of the old and the new,reflecting the journeys of the two great cities at the heart of the work.
"Given that 2013 celebrates the 400thanniversary of the historic link between the walled cities of Derry~Londonderry and London, and the strategic importance of rivers to both cities, walls and rivers are central to the thematic concept of 'The River Still Sings'.
"For example, the classical chamber music combination of Piano Trio, in the form of theFidelio Trio, will share the performance space with adigitally generated 3-D hologram of the narrator, projected onto large plasma screens and acoustic instruments with a long history will be combined with soundscapes and live sound processing generated using powerful new computers."
Professor Paul Moore, Acting Dean of the Faculty of Arts and Head of the School of Creative Arts at Ulster, created the unusual sounds and images which will be showcased during the performance.
He said: "'The River Still Sings' mixes up-to-the-minute computer technology with the acoustic sounds of a classical piano trio. With the help of the Loughs Agency I was able to get right into the middle of the Lough and capture sounds and images directly from life on the Lough, which will add a unique perspective to the performance which has never been seen or heard before."
Professor Frank Lyons (second from left) and Professor Paul Moore, (second from right) with the members of the Fidelio Trio Robin Michael, Mary Dullea and Darragh Morgan prior to their performance of 'The River Still Sings.'