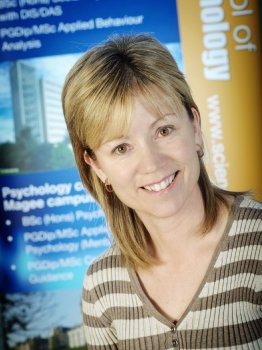 Dr Melanie Giles (pictured) has been appointed Professor of Psychology at the University of Ulster.
Professor Gilesgraduated witha first class honours degree and doctorate in Psychology from the University of Ulster.
In 1991 she secured a BP scholarship to study Occupational Psychology at the University of Sheffield where she graduated with a distinction the following year.
Shewassubsequentlyappointeda lecturer in PsychologyatUlster and promoted to Senior Lecturer in 2000.

AChartered Health Psychologist andfounding member of the Division of Health Psychology Northern Ireland – of which she is now secretary, Professor Gilesassumed a lead role in the development ofUlster'sMSc in Health Psychology by distance learningwhich wasthe first of its kind in the UK.
Shehas served on a number of external committees andhas worked with colleagues to builda reputation and funding base in Health Psychology in Ireland.
Professor Giles'smain research interests are in predicting and changing health behaviour using theories and models developed insocialpsychology.
She has received significant external funding for this work and has published widely in this area. Her focus on applied research has led to collaborations with a variety of external agencies including the Blood Transfusion Service, the Public Health Agency,Barnardosand the Probation Board for Northern Ireland.

Her most recent collaboration with the Public Health Agencyprovided evidence to support the effectiveness of a school-based intervention designed to promotebreastfeeding. This isnow available as an educational resource for post-primary schools across Northern Ireland.

She is a Fellow of the Higher Education Academy and the Centre for Higher Education Practice and is committed to enhancing the quality of the student learning experience. Together with colleagues in the Schools of Law and Computing and Intelligent Systems, she is responsible for introducing the PASS (Peer Assisted Study Sessions) initiative to the University of Ulster and has received several grants to promote and develop this initiative.

Last year, Professor Gilesreceived the University of Ulster's Distinguished Teaching Fellowship (Team Award) for her work in this area.
She currently works collaboratively with the National PASS centre in Manchester, isa regular contributor to National PASS Centre meetings and conferences and is Co-Chair of a Special Interest group established to evaluate the PASS initiative nationally.

Professor Giles is originally from England but has lived in Northern Ireland for more than 27 years. She now resides inPortrushwith her husband Barry and their four children, Jack, Harry, Sam and Holly.
ENDS