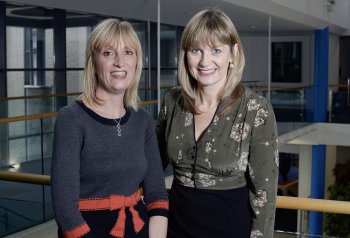 The needs of carers of people with advanced heart failure will be the focus of new research carried out by University of Ulster academics.
Dr Sonja McIlfatrick and Dr Donna Fitzsimons from the University's Institute of Nursing and Health Research have been awarded over £180,000 to carry out the all Ireland project.
"There is compelling evidence, from local and international sources that end of life care should be improved for patients with heart failure and their carers," Dr McIlfatrick said.

"We know that carers are likely to be disadvantaged and shoulder significant burdens, but the impact of these on the carer experience or patient outcomes have not been identified. Therefore research in this area is urgently needed to inform practice.

"In a recent review of family caregiving at end of life, 49 per cent of studies focused on cancer and none of the studies stated a focus on cardiac populations.

"A recent study indicated that family caregivers for people with heart failure had not heard of the term 'palliative care' but would be receptive to an offer of palliative care at some point during the disease trajectory. Consequently, family caregiving has been identified as a top international research priority in end of life care."
The University of Ulster has a strong tradition of nursing research and was ranked in the top three nationally in the last UK Research Assessment Exercise.
Funding for the project has come via All Ireland Institute of Hospice and Palliative Care (AIIHPC) where Dr McIlfatrick is the Head of Research.
The Institute, a consortium of 12 partner organisations including health agencies and universities, was set up last year to improve the experience of palliative care throughout Ireland.
The research will be carried out over a period of two years and will include sampling carers in both Belfast Trust where Dr Fitzsimons is a joint appointment and St Vincent's Hospital Dublin where Professor Ken McDonald is the local lead researcher.
Dr Fitzsimons is also chair of the European Society of Cardiology's Council on Nursing & Allied Professionals and is Clinical Lead for the Northern Ireland Clinical Research Network in Cardiovascular Disease.
She added:
"International evidence confirms that end-of-life care in heart failure is poor, characterised by high levels of symptoms, inadequate support and poor quality of life.

"In addition only four per cent of this population receive palliative care, although they constitute some of the most socio-economically deprived in our community.

"Recent studies suggest the need for the implementation of improved care pathways and further education to develop professionals' communication skills and facilitate end-of-life discussions with heart failure and their family carers. But progress on these objectives has been slow.

"We know that carers play a pivotal role in facilitating choice and quality for patients dying from heart failure, but they also shoulder significant burdens and require support. We hope that this study will identify carers' needs, evaluate burden and highlight any inequalities in care provision. In doing so it will provide the evidence for more responsive service development throughout the island of Ireland."
The All Ireland Institute of Hospice and Palliative Care (AIIHPC) was set up last year to make a positive difference in this field.
Recently the Institute was awarded €1.25 million for the establishment of a new network for palliative care research from the Health Research Board in the Republic of Ireland.
The Network, facilitated by AIIHPC, will bring together researchers from a broad range of disciplines, as well as from different academic institutions, to work collaboratively on research initiatives, which aim to improve the quality of palliative care for patients and their families.