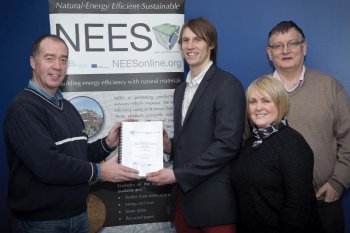 University of Ulster academics have submitted evidence to Government policy makers on the important role natural and renewable materials play in sustainable construction.
A research team from the University's Department of Business and Enterprise, using evidence obtained from a European Regional Development Fund project, submitted a paper to the UK All Party Parliamentary Group for Excellence in the Built Environment's (APPGBE) inquiry into sustainable construction and the Green Deal.
Senior Lecturer, Dr Elaine Ramsey, said: "The evidence focuses on best practice examples of natural, energy efficient and sustainable construction. Barriers to sustainable construction are also outlined along with recommendations as to how these may be overcome in the UK."
Project leader and senior lecturer, Derek Bond, added: "UK policy currently emphasises the production of renewable energy. However, there is an argument that a greater focus should be placed on reducing energy usage and this paper adds to that discussion."
Director of Academic Enterprise in the Ulster Business School, Dr Norry McBride, welcomed the submission.
He said: "The natural, sustainable construction sector provides a great opportunity for SMEs. The Ulster Business School is working to help develop these opportunities."
The submission was made on behalf of the European Regional Development Fund's INTERREG IVB Northern Periphery Programme's (NPP) transnational NEES (Natural Energy Efficient Sustainable) project team.
The NEES project, led by University College Cork, is identifying and promoting products and services that aim to improve energy efficiency in existing domestic buildings using primarily renewable or recycled materials and services based on natural processes. These products and services should originate and be normally accessible in the NPP region. In addition they should have the potential for being mainstreamed and commercially disseminated inside and outside the region. The project originated from the belief that current EU policy places too much focus on renewable energy in preference to energy efficiency.
The inquiry called on firms, organisations and individuals to submit evidence on best practice, challenges and barriers concerning sustainable construction and the Green Deal.
The commission set up by the APPGBE comprises of members of both Houses of Parliament in the UK, senior members of the construction professions and key influencers and decision makers in other aspects of society.
Ulster's research team - Senior Lecturers, Derek Bond, Dr. Elaine Ramsey and Research Assistant, Stuart Thompson - are based in the Ulster Business School at the Coleraine campus.
The evidence compiled was provided by the NEES project partners based upon their experiences in the field. The NEES partnership includes University of Ulster, Glasgow Caledonian University, Umea School of Architecture from Sweden, ARTEK from Greenland and Republic of Ireland based entities Northside Community Enterprises Ltd, Clar ICH and South Kerry Development Partnership Ltd.
The Commission will hold sessions in February and March 2013 to invite selected organisations to present oral evidence in support of their submissions. The findings of the inquiry will be published before the parliamentary recess in early summer 2013.
The full submission will be available for download on www.neesonline.org.