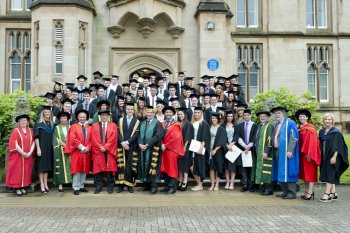 University of Ulster Chancellor, Dr James Nesbitt, has urged young people to use the power of education to help transform their own communities.

Dr Nesbitt was addressing an audience of students, parents, teachers and business leaders at the university's annual Step-Up graduation ceremony in Magee.

Congratulating the pupils from St Cecilia's College, St Mary's College, St Joseph's Boys School, St Brigid's College and Lisneal College, who successfully completed the innovative science-based programme in the north-west this year, he said:"Your success is living proof that access to higher education can and should be based on merit and not upon the social class into which individuals are born, or the type of school that they attend.

"Wherever you go to study, or whatever you choose to do, I would encourage you to embrace every opportunity that you encounter and in doing so, make a lasting contribution to the communities in which you live."

Dr Nesbitt praised Step-Up for its 'extraordinary success' in transforming pupils' aspirations, expectations and academic performance with respect to progressing to higher education.

"The Step-Up programme represents evidence of this university's commitment to the communities it serves and to the region as a whole, and is a unique partnership between Ulster, schools, industry, government agencies and local hospitals," he said.

Launched in the north-west in 2000 to give pupils who would not have traditionally considered going to university a better chance of progressing to higher education, Step-Up proved so successful that in 2006 its remit was extended to schools in the Greater Belfast area.

The pioneering programme has been identified within the Higher Education sector by Universities UK as "an outstanding example of the best practice in the provision of educational opportunity".

Under-lining Step-Up's unique contribution to widening access and participation in higher education in the region, Dr Nesbitt said: "Personally, I can strongly associate with the aims of Step-Up. For me, it is all about inclusion, about ensuring that every individual in our society has the opportunity to fulfil their ambitions.

"Even in today's Northern Ireland there are sections of society that have not recognised the transformational role that education can have on individuals, on communities and on society.

"As a university we have a role in breaking down those barriers that prevent individuals from seeing education as a route for them to fulfil their ambitions.

"If there is to be a legacy from my time as Chancellor of this university, I would wish it to be that, through programmes such as Step-Up, we have changed the hearts and minds of those individuals and those communities, who are currently excluded from third level education through no fault of their own. And in doing so, we have enabled them to transform themselves."

Dr Shane Crothers, Head of Access and Participation, added: "It is a genuine pleasure to see the pride and joy on the faces of all those attending this ceremony and to have the opportunity to celebrate the success of the Step-Up graduates.

"Their achievements are the result of the invaluable contribution of family, friends, industrial partners and staff at our partner schools who have helped nurture them and who have equipped them to embrace their new educational pathways with confidence."
Guest speaker at the Step-Up ceremony was Gerry Kindlon, Executive Director of Seagate, who shared with the students his enthusiasm for the fast moving world of information technology and the worldwide career opportunities it offers.
ENDS
Images from the Step-Up graduation ceremony can be seen at:
http://www.flickr.com/photos/universityofulster/sets/72157635080558891/