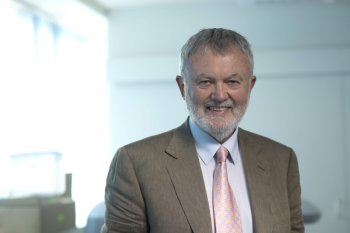 A University of Ulster human nutrition expert has landed a prestigious UK honour.

Sean Strain, Professor of Human Nutrition and Director of the Northern Ireland Centre for Food & Health (NICHE) on the Coleraine campus, is to receive the coveted annual British Nutrition Foundation (BNF) Prize.The award is in recognition of his leadership and research of outstanding merit related to human nutrition, food and health.

Professor Strain (pictured) said the BNF award means a lot to him, both personally and professionally.

"It's a great personal honour and it reflects not only my own work but also the work of my colleagues and others with whom I have collaborated on research projects over the years," he said.

An internationally respected nutrition scientist, Professor Strain is the current President of the Nutrition Society, the largest learned society for nutrition in Europe.

He is also Vice-Chair of the European Food Safety Panel (EFSA) - the keystone of European Union (EU) risk assessment regarding food and feed safety - and Chair of the Working Group on Health Claims. The EFSA works in close collaboration with stakeholders in member states to provide independent scientific advice and clear communication on food safety.

Professor Strain's specific research interests lies in three key areas: the risk benefits of fish consumption during pregnancy; the role of riboflavin (vitamin B2) in reducing a major risk factor for heart disease and stroke in genetically susceptible individuals and various projects involving vitamin D research.

He believes that research projects led by him and other senior colleagues within NICHE are helping to influence health policies at home and abroad.

"The research project, undertaken in the Seychelles is an ongoing project with the University of Rochester and the Ministry of Health in the Seychelles," Professor Strain said.

"We found that the benefits of eating more fish during pregnancy outweigh any risk to a child's development through increased mercury exposure and this new information has led to dietary advice for pregnant women in some countries being reviewed."

Professor Strain noted NICHE research had also found some people, depending on their genes, could significantly lower their blood pressure by increasing their B2 intake.

"Vitamin B2 or riboflavin, is found in dairy products. We have shown that it can reduce high blood pressure in those with a particular genetic factor which is found in about 10% of the population in Northern Ireland.

"Vitamin D – sometimes known as the sunshine vitamin – is vital for the formation of healthy bones; it may also help prevent diseases such as diabetes, cancers, rheumatoid arthritis and multiple sclerosis. The main source of vitamin D is exposure to ultra-violet radiation from sunlight and a small amount can also be obtained from the diet."

Professor Strain added: "Results from our previous work, in collaboration with University College Cork have been used to influence policymakers in the US where dietary recommendations for vitamin D have been recently updated.

"There are currently no dietary recommendations for vitamin D for people aged 4-64 years in the UK but these recommendations are now being reviewed. We hope that in the future our research will add to the scientific evidence that will help influence UK policy makers."

Since taking on the Presidency of the Nutrition Society, Professor Strain has been working hard to raise the Society's profile, increase membership and participation of members, all of which help raise the impact of nutrition as a scientific discipline.

He is also trying to extend the Society's international impact by establishing links with sister societies. Since taking over as President, he has established official links with Nutrition Societies in the US, Taiwan, South Korea, China, Australia and Africa. On a European level, he has been instrumental in forming official agreements with Nutrition Societies in Germany, Belgium and France.

ENDS

Notes for Editors

1. Human nutrition research at Ulster is carried out at NICHE, a centre of excellence established at the University's Coleraine campus to provide a greater understanding of diet-related health issues.

2. NICHE has 29 academic, 4 technical and 18 research staff, as well as over 20 postgraduate research students working on a wide variety of research projects to understand diet related health issues and investigate the relationship between diet and chronic disease.

3. Professor Strain discusses his work in this YouTube video:
http://youtu.be/8uu-IJT0m0I