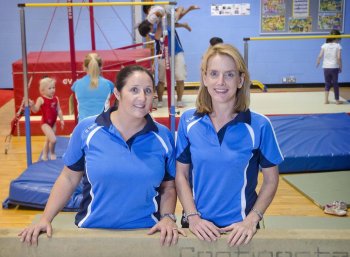 A dynamic new gymnastics programme developed by two University of Ulster academics is helping rugby and GAA players improve their performance on the sports field.
The GymEDGE Sports Coach Development Programme can be beneficial to any sport, explained Professor Marie Murphy and Sinead Connolly from the Ulster Sports Academy.
They have been working in partnership with Gymnastics Ireland on the course.
Former Irish rugby star and Operations Director of Ulster Rugby, David Humphries, said: "Gymnastics provides a great foundation for developing balance, coordination, spatial awareness and agility needed in all sports including rugby.
"Good athletic movement and body management skills are vital for developing skillful rugby players. As a parent I sent my children to gymnastics to develop these basic skills and provide the foundation for the other sports they would take on."
Ian McKeown, former Strength and Conditioning Coach on the GAA Programme at the Sports Institute of Northern Ireland (SINI) said: "GAA players coming into SINI have been very poor with regards to body awareness and movement efficiency so instead of looking at primary lifting skills and basic movement skills – lunge/overhead squat, I decided to take a purely movement skill/body awareness tact and basic gymnastics lends itself to this.
"Movement skill is vital for these players, I feel that this area is where we will get the 'biggest bang for our buck' and performance transfer in the short time-frame that I have to work exclusively with them.
"The emphasis on landing and an exposure to precision with jumping has lent itself to our injury prevention/prehab module of training.
"Players' feedback has been excellent – giving a different stimulus to the players but having full buy-in from them, similarly has seen this project bring success."
The recently launched course is a continuous professional development tool for any coach, from any sport, with any ability, who is interested in making their athletes or players better by giving them the 'edge'.
Sinead Connolly, Lecturer in the Ulster Sports Academy said: 'I believe that well taught gymnastics activities provide wonderful and unique opportunities to develop movement confidence and skill in a way that helps performers achieve their potential. The benefits can be different for different sports; the scope is wide ranging from swimmers developing shoulder flexibility to enhance their technique to games players developing efficient, seamless recovery from falls.
Professor Murphy said: "We have been working for a few years with the national governing body on an educational course designed to help coaches from other sports teach the fundamental movement skills through gymnastics.
"These skills are the building blocks for elite sport performance and we are keen that children who do not get an opportunity to participate in formal gymnastics do not miss out on the skills it has to offer. "
The programme is made up of workshops covering topics such as: fundamental movement and skills; stretching and flexibility; physical preparation.
Ciaran Gallagher, Gymnastics Ireland CEO, said: "Over the past few years Gymnastics Ireland has been developing a programme that we believe will highlight the importance of gymnastics as a sport to the development of all sport in Ireland.
"GymEDGE has the potential to make a real impact in the ongoing development of coaches from all sports across Ireland while simultaneously increasing the awareness and understanding of gymnastics as a sport.
"I must thank Sinead Connolly and Professor Marie Murphy for their valued input in the development of this programme."
GymEDGE is supported by the Irish Sports Council and Coaching Ireland.
Ends
Caption: (left to right) Sinead Connolly and Professor Marie Murphy from the Ulster Sports Academy.