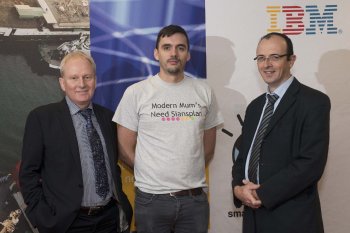 The University of Ulster's Magee campus joined a number of exclusive locations around the world including Beijing, Singapore and Sydney, to host an IBM SmartCamp today.
Aimed at identifying early stage entrepreneurs who are developing business ventures that align with IBM Smarter Planet vision, the SmartCamp is one of four events hosted at Ulster this week as part of the Innovation Dublin Festival.
A range of companies from across Ireland attended the SmartCamp at Magee, with projects ranging from an online dental diagnosis platform to a solution that empowers the home cook to reverse the negative global trend in food-related health. They competed against one another for access to world-class advisors plus a direct route to seed and venture capital.
Edward Friel, Head of Business Liaison & Academic Enterpriseat Ulster, said: "These mentoring and networking events put entrepreneurs in touch with investment firms, serial entrepreneurs, academics, marketing, communications, and technology experts that can help accelerate the solutions of start-up companies to the market.
"We are delighted to work with IBM and to have the opportunity to showcase the innovation and creativity that happens at the University of Ulster. We look forward to widening our engagement with this exemplary initiative in the future."
The Innovation Festival is a key project of the Creative Dublin Alliance, a collaboration between Dublin local authorities, universities, state agencies, businesses and the not-for-profit sector.The Festival is co-ordinated by Dublin City Council's Economic Development Unit.
Caption: (Left to right) Rory Caren, IBM, Vincent Breslin, Siansplan and Edward Friel, Head of Business Liaison & Academic Development, University of Ulster.