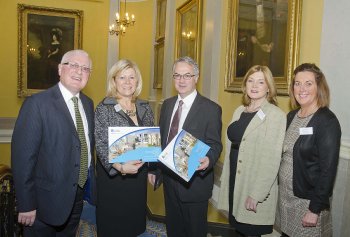 Professor Alastair Adair, PVC (Development), Dorothy McKee, Ulster Business School,Environment Minister Alex Attwood, Professor Jackie McCoy and Janette Sheerman, Ulster Business School
The Ulster Business School at the University of Ulster is playing a key role in the development of civic leaders tasked with the transformation of their local communities, a conference was told today.
Professor Jackie McCoy of the Ulster Business School said that the University recognised the need to prepare civic leaders for the challenges they are facing. She was addressing an Ulster Business School conference taking place in Belfast on civic leadership and community planning.
"Academic research clearly demonstrates that thriving local areas require the development and meaningful involvement of leaders across all sectors; public, private and the third sector," Professor McCoy said.
"The Ulster Business School is committed to workingin partnershipto supportthe economic, social, political and cultural development of our region.
"Through initiatives such as the Advanced Diploma in Civic Leadership and Community Planning, the Ulster Business School is taking a leading role as a catalyst for the development of civic leaders across all sectors.We are alsocurrently exploring how this programme could be developed to promote civic leadership on an international basis."
The conference, entitled 'Transforming Society through Engaging Place Based Leaders', was opened by the Environment Minister Alex Attwood.
It aims to encourage thriving communities by developing and involving leaders across all sectors and is the first conference to address how dynamic and innovative approaches to place based leadership could be applied to Northern Ireland.
Minister Attwood said: "Our society has gone through great change in recent decades. I draw the conclusion that after the terrible human price and the big delay and resistance, here in Northern Ireland we do change well.
"We are 900 days from a further phase of change and reform with local government reorganisation.If we do this phase of reform right, it can transform our local areas. The single biggest element of this reform is planning.
"This conference captures the challenge and the opportunity. If the new local councils live up to the responsibility of being local planning authorities,decide wisely the vast majority of planning applications, roll out plan- led development and do all of this in tight partnership with local communities, our cities, counties and the lives of citizens will be changed very much for the better.
"This is the challenge of the next 900 days, on the far side of which there is great opportunity. This conference helps concentrate our minds, puts it 'up' to us to get this right to further transform our society."
Dorothy McKee, from the Ulster Business School, added: "This conferencehas attracted widespread interest and support.TheUniversity of Ulster is delighted tohavebrought together a diverse range of civic leadersto learn from eminent academics andpractitioners in this field."
Delegates including councillors, council officials and representatives from the community and voluntary sector will find out how innovative approaches to place based leadership could be applied to their areas from top city leadership expert, Professor Robin Hambleton.
In his keynote address Professor Hambleton, from the University of the West of England, will outline new ways of conceptualising place based leadership, emphasising the key role of civic leaders in shaping emotions and supporting public service innovation.