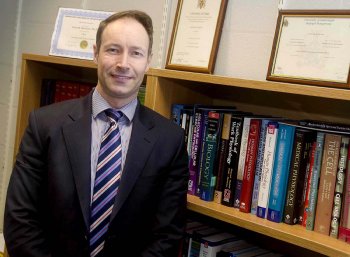 A structuredexercise programmein schoolsis crucial in combating the high risk of diabetes among overweight schoolchildren in the United Arab Emirates,University of Ulster researchhas revealed.
The report, commissioned by the Automobile and Touring Club of the UAE (ATCUAE), found that children born in the United Arab Emirates (UAE) are more susceptible to Type 2 diabetes and cardiovascular diseases, but with regular physical activity, key factors related to the diseases such as high blood pressure,glucose andcholesterol levels are all reduced.
The study was carried out at the American International School in Dubai on 23 children, with a Body Mass Index(BMI) greater than 25 per cent.
Theaim of the projectwas to determine the effects of physical activity on an overweight population of Emirati school children at risk of diabetes.
Lead researcher, DrGareth Davison, Senior Lecturer inSport and Exercise at the University ofUlster said that the results of the programme on the individual children at most risk to developing diabetes were the most revealing.
"Blood tests conducted on some of the children prior to the physical activity training programme were striking.Many individuals had clinically raised blood cholesterol, blood glucose, blood triglyceride, and Low Density Lipoprotein (LDL) cholesterol levels, which put them at an increased risk of developing type 2 diabetes or heart related diseases," Dr Davison said.
"However, in all of the blood tests of the same individuals post-exercise, the clinical values were lower than the values that put them at increased risk, and this is where structured schools based exercise training proves its potential value."
The childrenwere put through a 12-week physical activity programme, involving 60 minutes per day, five days a week, of moderate to vigorous intensity physical activity exercises.
Immediately prior to and following the 12-week programme, tests were conducted on the kids, including BMI, blood pressure, cholesterol, and blood glucose. While all thechildrenwere overweight, the pre-exercise tests also revealed that more than half of the children were at high risk of developing diabetes or heart related diseases.
As a result of the exercise programme, the research showed that the average fitness improved drastically, blood glucose dropped from an average of 93 milligram / decilitre (mg/dL) to 91 mg/dL, cholesterol from 160 to 157mg/dL, while Triglyceride concentration and LDL cholesterol also decreased.
DrDavisonsaid: "There have been no previous studies using physical activity interventions as related to obesity among UAE children, and our initial tests prior to the exercise programme provide clear evidence that Emirati school children do not participate in enough physical activity and exercise."
Dr. Mohammed Ben Sulayem, President of the ATCUAE said that UAE authorities and stakeholders promoting sport and physical activity need to make a positive impact in decreasing the risks of overweight related diseases in Emirati children and other 'at risk' populations.
"For all involved in sport and physical activity within the UAE, this report provides a reality check regarding the increased susceptibility to diseases in a vulnerable population of society," Dr Ben Sulayem, FIA Vice President for Sport said.
"The report has shown the benefits of a structured schools based exercise programme in decreasing the susceptibility of type 2 diabetes and cardiovascular diseases on Emirati school children, but this is just a starting point.
"More importantly, this report has paved the way for public bodies in the UAE to fund larger scale studies to examine the role of physical activity in other 'at risk' populations, such as adult overweight, and adult type 2 diabetic populations."
According to the World Health Organisation, physical inactivity is the fourth leading risk factor for global mortality, accounting for 6% of deaths globally, ranking before obesity (5%), and after high blood pressure (13%), tobacco use (9%), and high blood glucose (6%).
Other studies have found that only 14% of the UAE population engage in physical activity, contributing toward the 18.7% of the population currently suffering from diabetes, a statistic that gives the UAE the second highest prevalence of diabetes in the world.