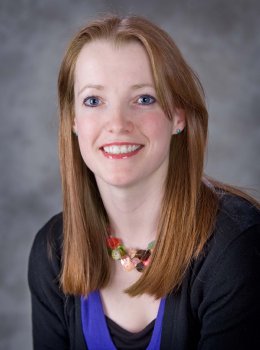 University of Ulster nutrition experts say that one in ten people in Northern Ireland, depending on their genes, could significantly lower their blood pressure and, in turn, their risk of heart disease and stroke by increasing their intake of vitamin B2, which is found in dairy products.
The advice from researchers at the Northern Ireland Centre for Food and Health (NICHE) on the Coleraine campus, follows their important discovery that vitamin B2 - also known as riboflavin - reduces high blood pressure which is often linked to a particular genetic factor found in 10% of the population.
High blood pressure is the leading cause of stroke and heart disease which, together, are responsible for about one-third of all deaths in Northern Ireland.
The research was conducted in conjunction with staff at Antrim and Altnagelvin Hospitals and Trinity College Dublin. The findings have been published in the world's leading nutrition journal, The American Journal of Clinical Nutrition.
The research was funded by the Northern Ireland Department for Employment and Learning and in part by a research grant from the Northern Ireland Chest Heart and Stroke Association.
The research was conducted by NICHE research associate Dr Carol Wilson as part of her PhD studies. NICHE is the human health nutrition unit of Ulster's top-performing Biomedical Sciences Research Institute (BMSRI). In the most recent national assessment of research excellence, the BMSRI's work established Ulster as one of the UK's top two universities in biomedical sciences.
Dr Wilson outlined her findings in Derry~Londonderry today atthe 4th Annual Translational Medicine Conference (TMED4) organised by C-TRIC, the pioneering translational medicine facility based in the grounds of the Altnagelvin Hospital campus.
Her research followed on from previous studies by a fellow NICHE researcher,, Dr Geraldine Horigan, who will also speak conference, about the possible implications of the riboflavin finding for future management of hypertension.
The conference, which continues on Friday,has a range of high profile speakers representing many aspects of the rapidly expanding translational medicine sector in the United States, Europe and Asia.
It is being attended by some 150 clinicians, academics and business people whose speciality is speedy "bench to bedside" conversion of healthcare research into practical usage. The University of Ulster is among C-TRIC's principal stakeholders.
Dr Wilson said: "These findings are so exciting because they focus on novel non-drug treatment for high blood pressure, targeted at individuals with a particular genetic factor. The blood pressure lowering response described in this research paper is hugely relevant in terms of its clinical implications."
Vitamin B2 is a micronutrient that is a key to good health and energy. In Western societies, milk and other dairy products account for more than 50 per cent of our riboflavin intake, along with some fortified products such as breakfast cereals and other foods.
"In the genetically at-risk group, vitamin B2 was able to lower blood pressure to within recommended target values while having no adverse effects on individuals who didn't have the gene," Dr Wilson explained. "The response occurred irrespective of any blood pressure lowering drugs being taken by the study participants."
"The extent of blood pressure reduction translates into a 30% predicted reduction in the risk of stroke death in the at-risk group.It would take about 10 kilos of weight loss to achieve the blood pressuring lowering that was reported in our findings."
Principal investigator Dr Mary Ward, a Senior Lecturer in Human Nutrition at Ulster, said: "This is an excellent example of personalised nutrition, i.e. nutrition advice tailored to an individual based on their genetic characteristics.
"A major strength of the research is that the lowering in blood pressure we found in this genetic group was as good as that generally achieved with drugs, yet it occurred in response to levels of vitamin B2 close to what a good diet could provide."
Co-investigator Professor Helene McNulty, who is Professor of Nutritional Science, added: "We are very excited by these results. Vitamin B2 is found in rich supply in milk and dairy foods but adults often don't eat adequate amounts of these in their diet.
"Increasing vitamin B2 intakes through improved diet, fortified foods or supplements could lower blood pressure in the 10% of the population with the relevant genetic factor without causing harm to those who do not have it."
ENDS
Photo Caption: Dr Carol Wilson, of the University of Ulster'sNorthern Ireland Centre for Food and Health, who spoke about her research findings at the 4th Annual Translational Medicine Conference (TMED4) organised by C-TRIC, the pioneering translational medicine facility based in Derry~Londonderry.
Notes to editor:
The genetic factor is the C677T polymorphism in the gene encoding the folate-metabolising enzyme MTHFR.Further information about this new research, including a link to a podcast with the lead author, can be found on www.ulster.ac.uk/niche and the American Journal of Clinical Nutrition website. http://www.ajcn.org/content/95/3/766/suppl/DC1
ENDS