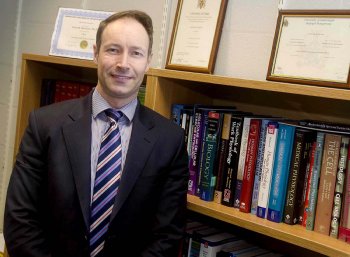 Formula 1 racing marshals working in hot climates will be the focus of a new research study being undertaken by the University of Ulster in collaboration with the Automobile & Touring Club of the United Arab Emirates (ATCUAE).
Dr Gareth Davison of the Sport and Exercise Sciences Research Institute at the University will lead the research into the effects of dehydration on support staff at major sporting events.
The study will begin next weekend at the Abu Dhabi Desert Challenge and will be completed at the Abu Dhabi F1 Grand Prix event in November 2012.
Dr Davison, in collaboration with Dr Sean Petherbridge, Chief Medical Officer ATCUAE, received funding from the Federation Internationale de l'Automobile (FIA) Institute to carry out the research.
"Individuals dehydrate during competitive events, even when it's not particularly hot and dehydration can impair both physical and mental performance leading to severe physiological consequences. A loss of 2% bodyweight can cause an increase in perceived effort and reduce task performance by 10-20 per cent," explained Dr Davison.
"For this project motorsport marshals will be exposed to extreme ambient temperatures, more than 35oC, for approximately eight hours each day. Each subject will be weighed, provide a blood sample and undergo routine assessment of hydration prior to and following heat exposure.
"Some study participants will be given bottled water to drink, while some participants will not be provided with water and will only receive routine medical advice, and it's this latter group that is of most interest when determining the effects of hot and humid environments on dehydration."
President of ATCUAE Mr. Mohammed Ben Sulayem welcomed the research and said: "Many motorsport events, such as those that take place in the UAE, are held in extreme high temperatures where the concerns of dehydration are normally associated with the sports person, while the effects of dehydration on support staff are often ignored, this research study is extremely important and will contribute towards the production of a best practice report for motorsport marshals working in extreme high temperature events."