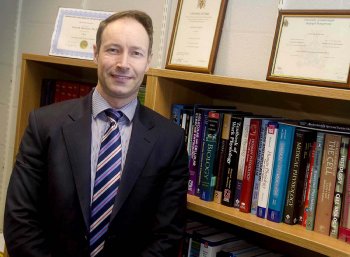 The University of Ulster is carrying out the first research study to examine the role of daily exercise in children at risk of developing diabetes in the United Arab Emirates.
The Gulf country has the second highest prevalence of diabetes in the world with almost 20 per cent of the Emirati population suffering from the disease.
Dr Gareth Davison from Ulster's Sport and Exercise Sciences Research Institute at the Jordanstown campus, is running an eight week exercise programme with overweight children at the American International School in Dubai.
The children will complete five one-hour physical activity sessions per week and measurements such as body weight, aerobic fitness and blood markers will be taken before and following the eight week intervention.
"The concept of this project is relatively straightforward, in that our aim is to examine an overweight group of Emirati children who are susceptible to diabetes, and engage them in regular structured periods of exercise. By doing so, we hope to decrease their chances of developing diabetes whilst at the same time improve their overall health," explained Dr Davison.
The University of Ulster received funding from the Automobile and Touring Club (ATC) of the UAE to complete the work, and the project will be run in consultation with Imperial College London Diabetes Research Centre in Abu Dhabi.
President of ATCUAE Mr Mohammed Ben Sulayem welcomed this research, and stated "that the UAE is currently experiencing an obesity and diabetes epidemic, and with the help of the University of Ulster, this valuable research project can play a role in our understanding of how we can reduce the risk of disease within the UAE".
"In the UAE, physical activity is not well established for the prevention of diabetes despite global acknowledgement of its benefits. Therefore we hope that this novel and innovative study will prove that exercise intervention can decrease disease risk in Emirati children," said Dr Davison.
"The data collected will help formulate an understanding, and increase national awareness of the importance of exercise for children. The study may contribute to a physical activity and health strategy for the UAE."