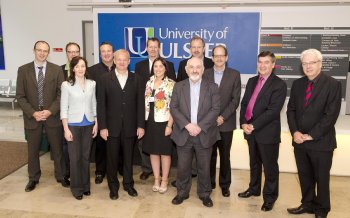 Back row: Eddie Friel, Office of Innovation, Piper Carr, Citizen Inc,Dave Whalen, Intel,Chris Boody, AT&T,Paul O'Shaughnessy, AT&T,Mark O'Shaughnessy, Citizen Inc,Professor Richard Barnett,Vice Chancellor, Professor Jim McLaughlin, Engineering Research Institute
Front row: Judith Miller, Invest NI,Hank Skorny, Intel,Fiona McElroy, Office of Innovation,Professor Martin McGinnity, Intelligent Systems Research Centre
Some of the world's most influential technology leaders have visited the University of Ulster to learn about the ground-breaking research taking place.
The delegation of technology chiefs and investors from Silicon Valley, California, were welcomed to the Belfast campus by Vice Chancellor, Professor Richard Barnett and to the Magee campus by Provost, Professor Deirdre Heenan. Facilitated by the Irish Technology Leadership Group (ITLG) – the party included senior executives from some of the Valley's leading corporations including Intel and AT&T.
ITLG aims to help Ireland address the challenges of embracing new technology opportunities and foster business innovation by working in partnership with universities, research councils, regional development agencies and government.
During their visit the business leaders were briefed on the pioneering research taking place at the University's Intelligent Systems Research Centre, the Engineering Research Institute and the Art and Design Research Institute.
They also met with staff from the Office of Innovation and toured the Computer Animation Research Laboratory (CARL) at the Belfast campus and the Intelligent Systems Research Centre in Magee.


The University's £20 million Intelligent Systems Research Centre makes a major contribution to international research in the area of computational intelligence and bio-inspired computing.


Its launch in 2007 marked the largest single research investment in the history of the Magee campus and helped bolster Northern Ireland's position as a world leader in intelligent systems research.


The ISRC encourages local businesses to embrace the concept of innovation making them more competitive and remains at the forefront of global research and development in the fields of intelligent systems, artificial intelligence and robotics.


The state-of-the-art Computer Animation Research Laboratory opened in August 2011 at the Belfast campus. Headed up by internationally renowned animator Professor Greg Maguire, the purpose built facility has allowed the University to provide specialised courses in various aspects of animation and gives students the opportunity to work with high end software not previously available in Northern Ireland.


Vice Chancellor, Professor Richard Barnett, said: "The University of Ulster welcomes this visit by key business personnel from Silicon Valley, marking the latest in a round of engagements with organisations and individuals linked via the ITLG.


"This meeting has provided an excellent opportunity to showcase the ground-breaking research being undertaken at the University of Ulster and we look forward to further collaboration between Ulster and ITLG in the near future."