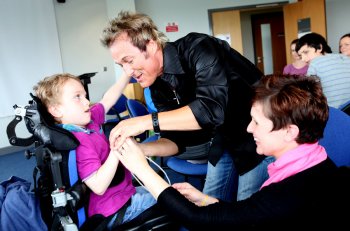 One of America's top magicians demonstrated how learning magic tricks canimprove the motor skills of children withupper limb disordersat the University of Ulster this week.
Kevin Spencer, who trained with David Copperfield, hosted aworkshop on thehealingpower of magicat theUniversity's Centre for Rehabilitation ResearchattheJordanstown campus yesterday.
Children with challenging conditions such as cerebral palsy, Downsyndrome,autism and adults with limiting hand function participated in the one-day event.
Guests alsoincluded occupational therapists, psychologists,academics,researchers,students and magicians.
Dr Alison Porter-Armstrong, from the University of Ulster, said: "Using magic as a therapy is cutting edge, it allows for mastery of physical, psychosocial and cognitive skills in a fun light hearted way. The most important aspect of this therapy is the ability of the client to transfer the skills learned by performing magic into activities of daily living motivating their rehabilitation progress and improving their self-concept. It has been successfully used with clients with spinal cord injury, stroke, ASD, hand injuries, dementia and mental health problems.
"Occupational therapy uses a variety of methods and functional activities to help clients achieve competency in everyday/ daily tasks. One of the biggest challenges therapists face is keeping the client motivated and engaged in the process. Learning magic tricks, on the other hand, is fun and exciting and offers a unique medium to explore the potential rehabilitation of clients with many conditions.
"Thistraining eventwillhighlight the effectiveness of magic as a therapy tooland willgiveclinicians an opportunity to witness the potential of magic as a therapy tool.
"We are delighted that Kevin has agreed to come alongand share his expertise, it isan inspirational workshop and I'm surepeopleattendingthisevent will wantto pursue further research in this radical and growing area of therapy."
The long-term effects of using magic tricks to improve the motor skills of children with upper limb motor disorders such as hemiplegia and paralysis wereassessed in an international research project at Guy's Hospital and Ichilov Hospital in Tel Aviv.
The projectwas the first of its kind and reflects the Charity's commitment to investing in innovative health interventions and evaluating the impact on clinical outcomes.
A pilot project in 2009 saw Magic Circle magicians working alongside occupational therapists from the Evelina Children's Hospital at Guy's and St Thomas' NHS Foundation Trust to develop a series of simple magic tricks that replicate the movements taught in conventional therapy sessions, helping to make them more enjoyable and encouraging children to keep up the practice at home.
Since then, 10 day magic camps have taken place at Guy's Hospital and in Tel Aviv during 2010 and one in Tel Aviv in 2011. Participants are assessed two to four weeks before the camp starts, then again at the camp's start and end to measure their progress, and at three and six-month intervals to assess the programme's impact.
Dr Porter-Armstrong said: "Resultsfrom this study show a significant increase in the number of activities performed independently and number of activities performed successfully with two hands following participation in the camp. No significant loss of skills was noted at the three-month review, suggesting that using magic as a motivator may enhance therapeutic outcomesin children with spastic hemiplegia."
The therapeutic use of magic has been applied in rehabilitation settings since 1982. With its influence and the recognition gained for its "powerful" use of magic therapy, the contemporary well-known magician and his partner,Kevin Spencer andhis wifeCindy Spencerhavededicated themselves to develop a programmecalled 'Healing of Magic'. Benefits of participation in the programme included improving motor and cognitive functioning, psychosocial and motivation to engage in rehabilitation processes.
Kevin Spenceris regarded as the international leading authority on magic therapy. He has spoken at various international conferences and has participated in magic therapy research projects around the world.
He has an Assistant Professorship of Occupational Therapy from the University of Alabama.He received the coveted International Magician of the Year in 2009 Award and he has also been the recipient of the Harry Chapin Award for Contributions to Humanity.
The Healing by Magic programmeis a concept that has been approved by the American Occupational Therapy Association. It is currently being used in hundreds of rehabilitation centres and hospitals in over 30 countries around the world. The programme can be used with clients of all ages with various physical, psychosocial and developmental delays.
Ends
Caption: Patrick Irvine, who has cerebral palsy, and his mum Geraldine, both from Belfast, learn a few new tricks from top magician Kevin Spencer.