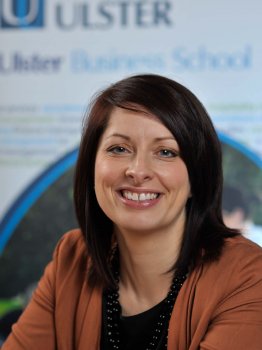 The University of Ulster has appointed Dr Karise Hutchinson, who is leading research into the survival and growth of small businesses in Northern Ireland, as Head of Business, Retail and Financial Services.
Aged 35, she is the youngest woman to be appointed Head of Department within the Ulster Business School (UBS) at the Coleraine campus.
Dr Hutchinson graduated with first class honours in Retail and Distribution Management from the University of Ulster in 2000 and became a lecturer in the Department in 2004 and obtained a PhD in international retailing in 2006. She is the first female to take up such a senior role in the Department from which she graduated.
A local girl, Dr Hutchinson grew up in Coleraine and now lives in Castlerock with husband Ali and their three children.
"I am delighted to be taking up this post during what is a very challenging time for businesses both locally and internationally. However, despite this time of intense change and challenge for retailers, marked by a lack of consumer confidence and increased failure on the high street, it is now clear that retailing has entered a new era," she said.
"While there is nothing quiet or new about this recession, there is now an acceptance on behalf of retail owners and consumers that in the current climate of economic uncertainty, change is here to stay. In this 'quiet revolution', the rules of the game have changed for retailers and consumers have the upper hand.
"In this new era of uncertainty there are a few sure things - many retailers will be history while others simply survive. But in 2012, a select few will emerge stronger. These retailers will seek opportunities where survivors see only challenges. In Northern Ireland, the opportunity for economic growth lies not only with the inward investment by multinational retailers, but in the independent retail sector. For in Northern Ireland, when independent retailers thrive, the region will thrive.
"There is some evidence of firm growth and success in Northern Ireland as owners of independent retail firms capitalise upon their unique selling points and bring in new customers and sales.
"The good news is that the research carried out at the Ulster Business School recognises the important contribution of the independent retail sector and continues to provide current and relevant knowledge to assist the survival and growth of these firms in the future."
During her time at the University, Dr Hutchinson has been involved in a number of research projects centred upon the support and growth of Northern Ireland retailers both small and large.These projects include funding from the prestigious research council, The British Academy, which involved collaboration with the Department of Trade and Industry into the barriers to international expansion encountered by retailers.
Not only has her research included work with well-known international retailers such as Tesco, Crabtree and Evelyn, Theo Fennell, and Mulberry, but she has also worked closely with smaller retailers who hold great significance in terms of their social and cultural contribution to the local NI economy.
Currently Dr Hutchinson is involved with the multi-million pound, 'Retail in Rural Regions' project, funded by the EU Northern Periphery Program. Her research team at the University has been working with European partners from Finland, Iceland and the Faroe Islands on providing training and support solutions to over 40 retailers across NI. This work was carried out to prevent further decline in this sector and to improve the retail provision and service quality in rural communities.
"In Northern Ireland alone, over 1000 independent stores ceased to trade in 2010 which demonstrates the continued difficulty facing independent traders, many of whom operate in smaller communities," said Dr Hutchinson.
"The RRR project sought to address this problem, particularly in a rural context, due to the damaging effect the closure of a rural store can have on the area. The vehicle for this was the implementation of the 'RRR' model of training and support."
Most recently, this research has taken into account the current economic recession and celebrity retail guru, Mary Portas' review of town centres on behalf of the government.
Dr Hutchinson's work in this area has focused on the survival and growth of independent retailers in NI and provides insight into how these retailers can implement successful strategies to counter the threat of multinational retail expansion in out of town developments.
"While there is no question that 2012 is going to be a tough year, consumers and retailers alike wonder just how tough it will be. However, retailers must realise that consumers have not stopped spending, but rather changed their spending priorities and how they shop," she said.
"The bigger question is: 'Are retailers out of ideas?' In this quiet revolution, where educated consumers are savvier than ever, there is a need for retailers to avoid apathy and embrace the new state-of-play, both off and online."
Dr Hutchinson also holds a number of external appointments including Chair of Marketing & Retail at the British Academy of Management; Academic Member of the ESRC Peer Review College and Director on the Causeway Enterprise Agency Board.
Her research papers have been published in numerous high quality international journals and presented papers at conferences across the world. Dr Hutchinson is a well-known commentator on retail and business issues in the media.