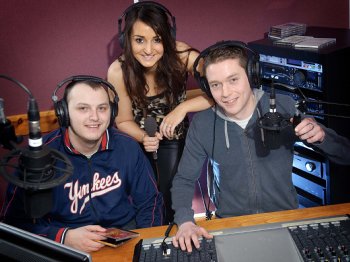 Students at the University of Ulster have established a new student run radio station.

News Junkie NI is an exciting new station with the slogan "for the students, by the students."

The four strong News Junkie team consists of students from all over Northern Ireland including David Thompson from Portstewart, Dale Lockhart from East Belfast, Colin Millar from North Belfast and Tara McLaughlin from Bangor.

They are all second year students studying the undergraduate journalism programme at Coleraine.
The aspiring young journalists decided to kick start their career by taking matters into their own hands and News Junkie was born. Programme director David Thompson was inspired to act after realising that the University has its own radio studio, seldom used by the students.
David said " our first ever News Junkie meeting was an exciting prospect. We knew Dale and Colin would be our reliable sports anchors but weren't sure how it would all pan out as everyone has different talents and interests.
"We started with a name and News Junkie NI was decided almost immediately. After that, everything sort of fell into place and we have had 9 podcasts since setting up in December."
News Junkie now has a weekly sports podcast called "full-time" produced by Dale and Colin while David and Tara produce the news programme "2talk." Everything is uploaded online to Facebook, Twitter and iTunes making it accessible and convenient to listen to.
The News Junkie team say of the project: "As aspiring journalists, getting work experience is crucial. News Junkie has provided a platform to get our voices heard and bolster our confidence in front of the mic."
"I previously had my heart set on print journalism but the world of News Junkie has opened my eyes to broadcast and I now consider this as a possible career path," said Colin Millar, deputy sports editor
"We decided as a group to have different sections. Tara and David were to be our news anchors whilst Colin and I are sports anchors. We have a group meeting every week to decide what stories would be broadcast based around the policy that this radio is for the students by the students," said sports editor Dale Lockhart.
Tara McLaughlin, deputy news editor, said: "We formed News Junkie with a view to helping us gain invaluable experience whilst giving UUC students a voice. So far, David and I have enjoyed working on numerous projects and have the advantage of having free rein to choose our own topics.
"News Junkie is exciting, dynamic and professional as well as giving us invaluable experience and preparing us for the workplace. I am loving being a part of the News Junkie team and look forward to our upcoming projects in 2012."
"We wanted to make sure News Junkie was accessible and relevant to students, so it seemed to make sense to do it all online. Although, we're based in the University, we hope to connect with the wider community and hopefully make programmes which appeal to a wider audience," added David Thompson, News EditorJournalism lecturer Maggie Swarbrick says of her students: "These students are the future of journalism in Northern Ireland. They are talented and highly motivated young people providing a real service to everyone at the University of Ulster through their use of new media. The news establishment should take note and watch News Junkie with interest. I'm delighted that this wave of fresh talent and energy is coming from our own student body."
News Junkie are looking forward to an exciting year of news, reviews, sports, analysis and features. You can find all their podcasts on the facebook page www.facebook.com/newsjunkieni, twitter @newsjunkieni and podcasts are also available on Itunes. If you've got a story and would like to contribute, you can contact newsjunkieni@gmail.com
CAPTION INFORMATION: pictured in the radio studio at Ulster's Coleraine campus are: News Junkie journalism students Tara McLaughlin (2nd yr journalism, from Bangor, centre), Dale Lockhart (2nd year journalism, from Belfast, left) and David Thompson (2nd yr journalism, from Portstewart),