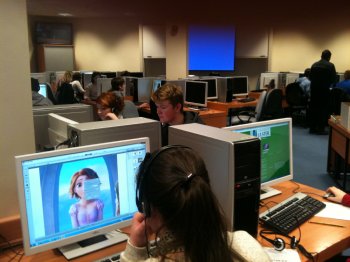 Sixth formers from across Northern Ireland were given valuable hands-on experience of the computer industry, thanks to the success of an innovative approach to work placement by the University of Ulster and School Employer Connections.
Over thirty Year 13 and Year 14 students took part an intensive two day workshop hosted by the School of Computing and Intelligent Systems at the Magee campus. Over the two days, they got a 'taster' of subject areas includingweb development, computer programming, computer gaming and mobile robots as well as a chance to use software like CrazyTalk and Dreamweaver to design their own websites.
Professor Liam Maguire, Head of the School of Computing and Intelligent Systems, said: "The innovative placement programme was designed to give students a better idea of career options in the computing industry.
"As well developing their learning and computing skills, the students were able to experience the work environment within the University of Ulster. They were also encouraged to consider different career options and explore some of the many courses available to help them achieve their career goals."
Owen Crozier, Manager of the Work Experience Programme at School Employer Connections, an organisation that works with over 500 employers and more than 50 post-primary schools throughout Northern Ireland, said the feedback from all the students was really positive.
"They really enjoyed their University 'work placement'," said Owen. "Some of the students had already decided that they were going to study computing at university and the placement just confirmed that they had made the right decision. Others students, who had been considering different options, are now seriously considering computing. I think the placement helped them to become more focussed and think about what they want to do after leaving school.
"This joint initiative between School Employer Connections and the University of Ulster has helped give the students to a better insight into computing at higher level.It also introduced students to the university environment and raisesd awareness of the many different courses and career opportunities available."
Pupils from thefollowing schools took part in the workshop: Coleraine Academy; Dean Maguire College, Carrickmore; Drumagh Intgegrated College, Omagh; Foyle College, Derry; Limavady Grammar; Loreto College, Coleraine; Oakgrove Integrated College, Derry; Omagh CBS; Omagh High School; Rainey Endowed School, Magherafelt; St Cecilia's College, Derry' St Ciaran's College, Ballygawley; St Columb's College, Derry; St Mary's Limavady; St Michael College, Enniskillen; Strabane Academy and Thornhill College, Derry.
Caption
Sixth formers on 'work placement'at the Magee Campus, doing animation and web development under the supervision of Dr Jose Santos, Lecturer in the School of Computing and Intelligent Systems.