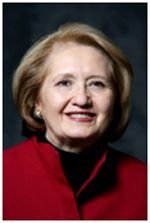 Amb. Melanne Verveer
The role of women in building peace in Northern Ireland and elsewhere is to be the focus of a lecture at the University of Ulster by a senior US Government aide today.
Melanne Verveer, who was appointed in 2009 by US President Barack Obama as an Ambassador-At-Large for Global Women's Issues, will be delivering the lecture on the Belfast campus ahead of US Secretary of State Hillary Clinton's visit to the city.
Professor Monica McWilliams of the University of Ulster's Transitional Justice Institute said: "The University is delighted to welcome Ambassador Verveer to the University.
"This lecture is quite a coup for the University, as Ambassador Verveer is a senior US Government official who has played a key role in the Obama administration's efforts to promote the political, economic and social advancement of women globally.
"Ambassador Verveer has been involved with women throughout the peace process in Northern Ireland and is in a good position to reflect on how far women have advanced since the Good Friday Agreement.
"We are also as interested in hearing her assessment of how women are faring around the globe – in other conflict and post conflict societies."
Ambassador Verveer is a founder member and chair of the Washington-based non-profit, non-governmental organisation Vital Voices which has promoted increased participation by women in politics, economic empowerment and human rights in Northern Ireland, the Middle East, Africa, Latin America and Asia.

She was the former Chief of Staff to Hillary Clinton in the White House when she was First Lady.
Ambassador Verveer is accompanying Mrs Clinton during her final official visit to Belfast as US Secretary of State.
The Transitional Justice Institute in the University of Ulster studies law in societies emerging from conflict.
Based on the Jordanstown and Magee campuses it was founded in 2003 and is led by Professor Bill Rolston.