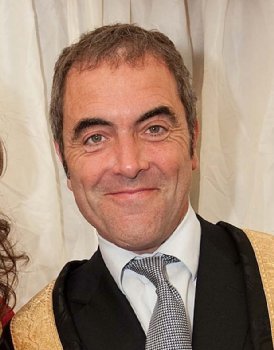 Chancellor Dr James Nesbitt
Bold ethical leadership will be critical if communities are to emerge stronger from the recession, the Chancellor of the University of Ulster, Dr James Nesbitt, claimed today.
In his address to the Winter Graduation ceremonies in Jordanstown, Dr Nesbitt encouraged graduates to take on a leadership role in their communities and apply the principles of innovation, equality and inclusiveness fostered by the University.
And he also stressed the importance of them championing higher education being made accessible to all sections of society including those from the most disadvantaged communities.

The University's Chancellor told graduates: "During your time here you have been encouraged to be innovative, to develop your own thoughts and to become leaders.
"However,it is not just what this University does that distinguishes it. It is also how we do it.
"You havebeen encouraged tobecome leaderswithin the framework of a well-defined and established value system – values that mean that thisUniversity is open and honest in how it deliversexcellent, accessible teaching and learning and excellent research and innovation.
"(Those are) Values that see the University accountable for what it does and that enshrine our commitment to equality, diversity and inclusiveness.
"As graduates of the University of Ulster I look to you to bring those values to whatever you do in life."
Dr Nesbitt continued: "These are difficult times and, without being judgemental, I consider that society needs strong and ethical leadership to enable it not only to recover from the economic position it finds itself in but also tobuild sustainable communities that have at their heart respect for those that make up those communities.
"To do so means you need to be proactive in bringing those values to society.
"We cannot always assume that things will turn out the way we want them to but the best defence against the unpredictable nature of life is constancy of wisdom, constancy of purpose and constancy of values. "
Over 1200 students are graduating over the course of the next four days at ceremonies on the Jordanstown campus and the Millennium Forum in Derry~Londonderry ,and will be joined by thousands of parents, friends and family members.
Dr Nesbitt reminded graduatesthe most precious giftparents couldgiveto their childrenwas an education.
He reiterated the University of Ulster's view that the gift of education was not only for those who can afford it but everyone who dreamed of a bright future and had the ability to benefit from that education, regardless of their background.
"I urge you to remember that as you go on to become leaders and influencers in society.
"Education should not be seen as an expense, but rather as a gift and an investment in the future.
"Of course, the University of Ulster has a strong commitment to widening access to higher education, with a number of programmes at primary and secondary school level in disadvantaged communities, opening up educational pathways for communities that have tended to shy away from a university education.
"Ulster's commitment to making higher education accessible for a greater number of young people is something I am very passionate about.You have shown that you have the ability to have a great future. Do not forget that others deserve the same opportunity."
Dr Nesbitt said he enjoyed officiating at the University's graduation ceremonies and celebrating with graduates and their families their hard work, dedication and passion for education.
Reflecting on his recent tour of the University's campuses, he commended students and staff for the innovative teaching and learning and research work going on in the University.
"Irealised how much the nature of higher education has changed from the traditional classroom based lecture to a fully interactive experience, where the University and its excellent staff enable students to express their creativity and fulfil their potential," he said.
"During the course of that visit, I saw young people working together in collaboration and really engaging with their subjects. There is a real sense of energy and creativity around this University. It's inspiring!
"As a graduate of thisUniversity, you have benefited fromthat energy and creativity and have receivedan excellent educationthat hasprepared youforthe next stage of your career or your studies. Being a graduate of the University of Ulster also carries significant responsibility."
He concluded: "As you probably know, I have spent the last few weeks promoting a certain movie and perhaps the words of Thorin (who is always very serious!) to Bilbo are appropriate:
"There is more in you of good than you know, child of the kindly West. Some courage and somewisdom, blended in measure. If more of us valued food and cheer and song above hoarded gold, it would be a merrier world."
"I wish you all a memorable day, a very happy Christmasand every success in your future lives."