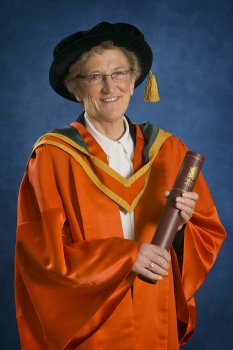 Leading nutritionist Professor Barbara Livingstone was today awarded aSenior Distinguished Research Fellowship by the University of Ulster
Professor Livingstone's research outputs have directly influenced global policy on nutrition and obesity.
Many of her outputs have informed and impacted on international research methodology, particularly in the area of nutrition and obesity research, but also research-led nutritional education.
Her research is extensively cited by international policy makers including The Food and Agriculture Organisation of the United Nations, the World Health Organisation, the United Nations University and the Institute of Medicine in the USA.
Her work has also led the drive to change eating habits and provide young people with the intellectual skills needed to understand the most important elements of a healthy diet. Under her lead, projects commissioned by the Food Standards Agency in the UK and Safefood in Ireland have led to the development of multimedia information being disseminated to every secondary school in the UK.
This work received a commendation from the British Interactive Media Association in the Training and Learning category
Professor Livingstone's research has, over many years, impacted on her scientific peers and influenced policy and industry decision-making on a global scale.