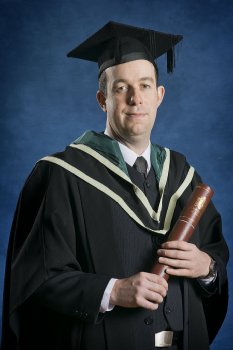 Architectural Technology lecturer David Comiskey today received a Distinguished Teaching Fellowship from the University of Ulster.
David joined the School of Architecture and Design in 2009 and during this relatively short time has made an outstanding contribution to the life of the school.
A constant difficulty for students studying architectural technology is visualising and understanding the translation of technical drawings into completed buildings.
Traditional teaching would have involved visits to live construction sites, however this creates practical problems in overcoming health and safety issues. Therefore, David developed innovative video and screen-casting tools which allow students to link what is shown on the architectural drawing to the building site, without leaving the University.
He has been highly successful in running his school's placement programme and during his time in this role one employer, Keystone Group, received the University's Placement Employer of the Year Award. His introduction of a European Study Tour onto the Architectural Technology and Management course has contributed greatly to the internationalisation of the school.
David has also played an important role beyond the school – as the faculty's representative on the Technology Enhanced Learning Committee and as a member of the Centre for Higher Education Practice (CHEP); and in professional life as a member of the Northern Ireland Committee of the Chartered Institute of Architectural Technologists.
A valued member of the school staff, David has, through his imaginative use of technologyhas made a major contribution to teaching and learning, enhancing educational provision in a way that encourages and supports the development of students as independent and critical lifelong learners.