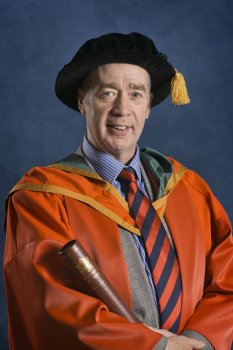 The University of Ulster has awarded a Distinguished Academic Enterprise Fellowship to human resources specialist Dr Norry McBride.
Norry joined Ulster in 2005, having previously set up a number of leading businesses in Northern Ireland. He is a lecturer in Human Resource Management with the Ulster Business School (UBS); Course Director for the MSc Applied Management programme; Director of Academic Enterprise for UBS; a Non-Executive Director with Innovation Ulster Ltd; and a Fellow of the Chartered Institute of Personnel and Development.
He has undertaken numerous consultancy projects on behalf of the Northern Ireland Civil Service and government departments, including Department of Finance and Personnel, Department for Employment and Learning and the Northern Ireland Audit Office.
Dr McBride has worked on a variety of projects for the private sector in the Far East and the Middle East, India, Europe and the USA. He, along with colleagues, has been instrumental in attracting a range of new income streams to the University from areas such as consultancy, EU funding, knowledge transfer programmes and bursaries in excess of £1.4 million.
His special interests lie in the development of student entrepreneurship and he has assisted many students on their journey towards self-employment and self-sustainability. In addition, he has attracted a significant number of corporate sponsors across a range of degree programmes within the UBS including, PricewaterhouseCoopers, HSBC, Invista (UK) Ltd and First Trust Bank.
Combining his commercial experience with academic activities, bringing substantial monies into the University and significantly increasing the profile of academic enterprise amongst colleagues within UBS, has resulted in enhanced activity with external organisations in the public and private sectors.