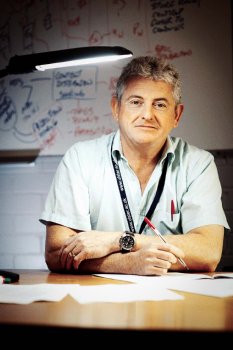 A University of Ulster academic involved in a multimillion pound telecommunications research project says it will herald a new era of faster, better and cheaper communications with the potential for enormous benefits for all users.
Professor Gerard Parr, who holds the Chair of Telecommunications Engineering in the Computer Science Research Institute at the University's Coleraine campus, says it's the 'Martini' age for digital communications, with 'anytime, anywhere, anyhow' connectivity a must in today's increasingly connected and digitally driven society.
The Coleraine-based telecoms expert is a member of a UK Universities consortium - led by Professor Jeremy Frey from the University of Southampton - who are working on a new 3 year £1.8M project funded by the Research Councils UK (RCUK) Digital Economy Programme, to establish a Research Community Network to address the challenge of 'IT as a Utility' (ITaaU Network+).
Professor Parr explains the thinking behind the project: "Water and electricity are traditional utilities that people are used to having 'on tap'.Information technology (IT) is an example of a utility for the digital age.
"IT is now integrated into most aspects of our lives, from the way we keep in touch, follow sporting events, access government services or keep up to date with breaking news - the extensive coverage of the London 2012 Olympics is an example of real-time high quality streaming video, web, Twitter and Facebook feeds."
He continues: "Increasingly people are used to having broadband access to support software applications, ranging from email accounts with huge amounts of storage, social networking profiles on sites such as FaceBook, Twitter or LinkedIn and various other web-based services to manage private documents, either from home or while on the move via 'smart' phones."
The trend for internet access which is always on and connected is not restricted for private use, continues Professor Parr.
"Increasingly, commerce and industry are using the same technologies to support their staff, market their products, service their customer base and manage their supply chain. Indeed, with recent initiatives there is now a major push to provide citizen-facing e.government applications on the Internet and provide Cloud services that can scale to many thousands or millions of citizens.
"This demand for IT 'on tap' has created some serious technical, engineering and social challenges which need to be overcome to ensure that people living in marginalised communities and rural areas have equality of access.
"The ITaaU Network+ project aims to address these challenges. It is about the provision of information and technology in a transparent and highly usable manner. It is closely related to Grid and Cloud Computing, with an emphasis on making IT resources effortlessly and almost invisibly available to the end user as and when they are required, regardless of location.
"Cloud-based ways of accessing applications and infrastructure are now well established, and are changing the way people use applications, especially where the application is accessible from multiple users using devices such as iPads, tablet PCs and in-car systems."
However, these trends are only the start of the move towards 'IT as a utility', according to Professor Parr.
"As elements such as digital content, multi-functional sensors and other real-world devices are already becoming possible, user communities and urban/rural infrastructure will become more integrated with the Internet of Things.
"People will have access not just to utility storage as they do today but to rich and complex utility content - including live sensor data, user participation and 'just in time' personalised media - managed and exploited by a wide range of interacting utility applications and autonomous agents interacting with consumer-usable end-points, that aren't always computers or mobile phones."
He says that the number of smart phone apps currently on the market shows that there already is a demand for easy-to-use IT functions. This demand is set to get even greater in the future.
"ITaaU Network+ will promote research into providing access to a wider range of IT facilities that are simple to use. It is not enough to provide the services and the means of using them securely. We need to understand the human aspects of such services: the barriers, perceived as well as real drawbacks that inhibit new users of these services."
The ITaaU Network+ brings together researchers from the many disciplines needed to understand the provision, uptake, usability, management, robustness, security, trustworthiness and sustainability of applications and services delivered in the future Internet.
The project co-investigators include: are Professor Mark Sandler (Queen Mary, University of London), Dr Michael Surridge(University of Southampton) and Dr Richard Mortier (University of Nottingham).