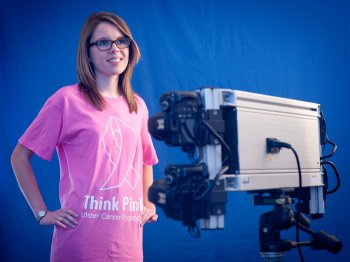 To mark breast cancer awareness month in October, the University of Ulster has teamed up with the Ulster Cancer Foundation and Belfast Health and Social Care Trust to work on a unique project aimed at helping women make better decisions about breast reconstruction following surgery.
Each year in Northern Ireland, approximately 1200 women are diagnosed with breast cancer. With survival rates steadily improving due to faster diagnosis, better treatment and care, increasing numbers of women are considering breast reconstruction following mastectomy for breast cancer.
The project leader is Dr John Winder, a Reader in Rehabilitation Sciences and a 3D medical imaging specialist at Ulster's Jordanstown campus. He explained that the pioneering project will lead to the creation of a DVD with three dimensional images of breast reconstruction which will improve communication with patients.
"We are using the latest digital technology from Axis Three Ltd, a hi-tech Belfast based company, to enable women to see how breast reconstruction may look for them. This is the first time that this technology has been used in this way," he said.
Pilot work with the Ulster Cancer Foundation funded by an Invest Northern Ireland innovation voucher has already been carried out to develop novel 3D technologies.
Olive Hill, Invest NI's Director of Technology and Process Development, said: "This unique project demonstrates how innovation vouchers can be used to successfully develop closer links between Invest NI and the social care and health sectors.
"The Ulster Cancer Foundation used the voucher to team up with the University of Ulster for help with developing the DVD to offer support to breast cancer patients. This unique communications tool has the potential to make a significant contribution towards breast cancer care and rehabilitation services across the UK."
Liz Atkinson, Head of Care Services for the Ulster Cancer Foundation, said, "For many women having breast surgery following a diagnosis of cancer can be very distressing. Any change in body image can mean women experience feelings of anxiety, loss of femininity and a lack of confidence. We know from feedback from breast cancer patients that deciding to have breast reconstruction is a vital part of feeling good about themselves and taking control of their illness.
"Currently around 21% of breast cancer patients having a mastectomy opt for immediate breast reconstruction and for many women, these decisions are being made at a very stressful time. Many have expressed a desire to speak to others who have been in a similar situation or have already gone through a similar procedure but haven't had the chance to do so. The DVD will be a very useful resource for women as they prepare to make important decisions regarding their health and well-being."
County Down woman, Elvira Lowe was diagnosed with breast cancer in 1990 and again in 1995. She said:
"When I was told that I needed a mastectomy I was so pleased that I was offered an immediate reconstruction as it really helped me to cope with the emotions associated with losing a breast to cancer. There was a lot of information to take in and I can see how valuable it would be to be able to look at a video at home, have time to take on board what the surgery entails and then think through the best option. I feel this DVD will be an invaluable tool for any woman facing such a decision at such an emotional and stressful time in her life."
The DVD will be available from the Ulster Cancer Foundation in Spring 2013.
Caption
Tess Catherwood, an Engineering graduate from Cambridge University, who spent her summer placement at the University of Ulster working on 3D imaging in breast cancer with Dr John Winder