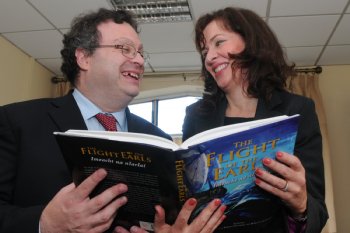 Professor Deirdre Heenan, Provost of Magee and Dean of Academic Development at Ulster's Magee campus, has described the decision by the Department for Employment and Learning not to fund the University's bid for 1000 additional undergraduate places at Magee as "extremely disappointing."
She was speaking as DELNI Minister Dr Stephen Farry made his first visit as Minister to the Londonderry campus.
During the visit, Professor Heenan congratulated the Minister on his work in revising the DELNI budget to plug a £40m funding shortfall for higher education, and on his recognition of the need for additional undergraduate places in Northern Ireland. But she added:
"We understand that these are financially straitened times. However, the Minister did say there is enough money in the pot to provide several hundred additional undergraduate places in STEM subjects. Ulster is the only institution that has made a bid for additional undergraduate places, and we believe that Magee is the right place for them to be."
"I urge the Minister to think strategically about allocating those places where they could make the most impact, rather than dissipating them across a range of institutions and locations."
"The University of Ulster at Magee is ready, willing and able to take any additional places the Minister may have in his gift, and we will contunite to press the case for expansion of student numbers at Magee."
During his visit, Minister Farry, was briefed by Professor Heenan on the present activity and development plans for the campus. He also visited the Intelligent Systems Research Centre where he was briefed on world leading artificial intelligence and robotics work being undertaken by University researchers.
Provost Heenan reiterated to the Minister the University's long standing and widely supported bid for additional undergraduate places at Magee:
"We have ambitious plans for the expansion of Magee, plans which are crucial for the economic regeneration of the north west. We feel it is vital not only for the University, but for the city and the region as a whole. for the Executive to find a way to give us the green light for at least 1000 extra undergraduate places here at Magee.
Those new places would be a valuable and welcome first step in powering the economic regeneration plans of the city, she said.
And Professor Heenan called on ILEX, political representatives, the city council and all the institutions of civil society in the city to unite behind the University of Ulster's vision for a learning city fit for the 21st century.
CAPTION: During his visit to Magee, Minister Farry was presented with a copy of The Flight of The Earls, a recently authored work by by Magee humanities researcher Dr Eamon O Ciardha.