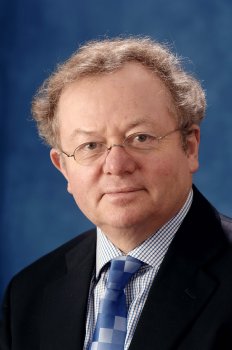 A University of Ulster scientist has advised European health authorities to tighten controls on new products that contain man-made invisible 'nanoparticles' because of a concern some might trigger harmful side-effects.
Professor Vyvyan Howard (pictured), a medically-qualified pathologist and Professor of Bioimaging, told an international watchdog body in Slovenia that Europe should "be careful" in how it regulates products that contain the tiny synthetic elements.
He was giving an opening address – at the invitation of the World Health Organisation (WHO) - on the subject of Nanotechnology and Health at the inaugural three-day meeting of the European Environment and Health Task Force (EEHTF) which is under way in the city of Bled.
Explaining the background to his speech, he said: "Technology is always well ahead of regulation. Regulators are always playing catch-up. The EU health authorities are aware of this and that they need to introduce a method of licensing new nano-products."
The EEHTF comprises senior decision-makers in environment and health matters from all EU states and is overseeing the European Environment and Health Process, which stemmed from the 2010 Parma Inter-Ministerial Conference.
Nanotechnology is one of the buzzword techniques in modern science. It uses human-engineered particles measuring a few millionths of a millimetre across in a wide range of consumer and industrial products.
The science is recognised as a major breakthrough but some researchers fear that small doses of the tiny particles may be ingested by humans and animals, with possible adverse repercussions.
Professor Howard, who has been researching the effects of toxic substances, particularly on the foetus and infants, for more than two decades, is a former President of the International Society of Doctors for the Environment. It represents some 30,000 doctors and is a recognised by the WHO and United Nations.
He said:: "There are already a lot of nanomaterials in use, for instance in some personal care products and as additives to fuels to increase engine efficiency, and they are now starting to be added to textiles and foods.
"A number of us who are in this field think that we need to act with precaution. That is one of the messages in my address. This is a powerful technology and we need to be careful with it. We can see that there are potentially many benefits but what we want to do is to take the benefits without harming ourselves."
The invitation to give the prestigious lecture is seen as a reflection of the international standing in the field of nanotoxicology of the Nano Systems Biology Research Group at the Biomedical Sciences Research Institute at Ulster

Professor Howard said "It is an honour to be asked to present a paper on the current state of knowledge about nanotechnology and health to such a body as the EEHTF because they will be making decisions that will affect us and indeed future generations
"The research that we have been able to perform over the years has only been possible because we could attract funding. A major reason that we have received grant funding is because of the excellent infrastructure here in Ulster.
"In the Microscopy Core Facility, headed by my colleague Dr George McKerr, we have one of the most impressive sets of microscopes inEurope. You can't investigate nanoparticles without such instruments."
ENDS