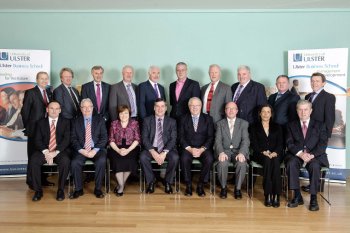 Industry experts at the University of Ulster's Ulster Business School have encouraged young people to 'go that extra mile' when it comes to finding work.
In a week when jobless figures reached a record high, the need for practical experience while studying was highlighted at an event for leading business figures, who bring a working knowledge to the classroom.
Entrepreneur, Michael McQuillan, a Visiting Professor and an alumnus of the Ulster Business School, said young people should market themselves to potential employers.

He set up and runs the hugely successful, Streat cafe chain, which has a workforce of over 350.
"As an employer we are looking for people who have gone that little bit further. Yes, it's good to have a degree but what sets them apart from other applicants - for example, have they worked over the summer and Easter breaks?" said Professor McQuillan.
"I always ask the students, 'have you spoken to graduates who are a few years ahead of you to find out how they got their jobs, what path did they take?'
"In the current climate you have to market yourself, think of yourself as a product. One of the most important things is being prepared for interviews, no matter what the job is, so many people come unprepared and take it for granted that they'll still get the job."
The Belfast businessman explained how Visiting Professors help to bring the working world alive for students.
"It is vital to invite industry speakers into the lecture theatre and apply theory to reality. It is also essential to ensure that students have quality placements.
"As an employer I know the Ulster Business School provides an ideal foundation for working in industry in Northern Ireland. In the Streat, we have a number of Ulster graduates in our senior management team and a few who have taken on franchises themselves."
Leading economist John Simpson is another of the School's Visiting Professors. His message to new graduates is, "be prepared to start at the bottom, you have to learn how to do the routine things before you can start climbing the ladder. It's important for young people to approach the world in a realistic manner.
He added: "I think the notion that a degree doesn't matter when it comes to finding employment, is wrong. A degree will always be an advantage, it shows that you have the capacity to think and even if you start at the bottom the right qualifications can help you move up."
Experts in their field, the School's Visiting Professors include a wealth of local and international talent such as celebrity chef Michael Deane, leading UK food product developer Grainne Allen, former Nokia Research Director, Veli-Pekka Niitamo, now Director of Future Learning Finland, Feargal McCormack, Managing Partner of FPM Accountants, AnnA Moss, Managing Director and General Counsel of Belfast Citi and Kieran Patterson, Chief Executive of Lightstep Technologies.
This is the first time the Visiting Professors have gathered in one group at the same time and place - the Academy restaurant at the Belfast campus last week.

Professor Marie McHugh, Dean of the Ulster Business School told them how their contribution was helping the School to make the University's vision of "leading in the provision of professional education for professional life', a reality.
She said: "Our Visiting Professors play a unique and vital role in helping us to build for the future - build for a better, stronger Northern Ireland, build a stronger economy and build a knowledge and skills base that makes this region one of the most attractive places for people and organisations to live, locate, work and invest.
"Many Ulster Business School students graduate not only with a degree but also with membership of a professional body.
"Alongside this, each year, thanks to our business partners in this region and beyond, we provide the opportunity for over 300 placements or internships. In every way, we seek to ensure that our students, when they graduate, are equipped with knowledge and skills that make them highly employable."
Caption: Visiting Professors from the Ulster Business School join Vice Chancellor Professor Richard Barnett and Dean of the School, Professor Marie McHugh for dinner at the Academy restaurant in the Belfast campus.