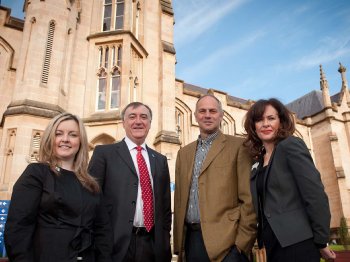 Sport topped the agenda at the University of Ulster's Magee campus today when Olympic rowing star Sir Steve Redgrave swapped winning memories with Commonwealth Games medallist and academic, Dr Lisa Bradley.
Sports journalists from the North West took the opportunity of a chat also with the five times Olympic Gold Medal winner when he was guest of honour at an informal media breakfast hosted by Magee's Acting Provost, Professor Deirdre Heenan.
She said: "Magee has hosted many political and sporting celebrities over the years but it really is a very special day when we have a star of the calibre of Sir Steve, who is one of the towering Olympians of our times.
"His success and dedication and his down-to-earth personality make him an inspiration to sportsmen and sportswomen, not just in rowing but across all fields of sporting endeavour."
Sir Steve, who was accompanied by Dr Nigel Dobson, Director of Sports Development at Ulster, was greeted warmly by Dr Bradley who won a silver medal in judo at the 2002 Commonwealth Games.
Dr Bradley, who is Head of the Department of International Business at Magee, exchanged notes on coaching with Sir Steve. A holder of a third Dan black belt in judo and twice World Masters Judo Champion, she is an enthusiastic judo coach.
They met up at Magee before they spoke at a conference entitled "Raise Your Game" in the neighbouring North West Regional College. The University's Ulster Sports Academy partnered management and events consultancy Podiem Ltd in staging the conference, which was sponsored by Derry City Council, Invest Northern Ireland, NWRC and BT.

The conference's aim was to provide companies with an opportunity to enhance their management and leadership capabilities by tapping into the skills and techniques employed by top athletes.

Caption: Sir Steve Redgrave with,from left, Dr Lisa Bradley, Head of Department of International Business, John Scott, CEO 2014 Commonwealth Games Glasgow and Professor Deirdre Heenan, Acting Provost Magee.
ENDS