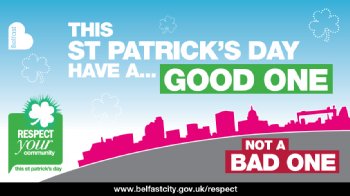 The Vice Chancellor of the University of Ulster and the President of the University of Ulster Students' Union have urged students to enjoy St Patrick's Day responsibly.
Their message comes as Northern Ireland gears up for this week's annual St Patrick's Day celebrations.
In a joint letter to all University of Ulster students on all the University's four campuses – Belfast, Jordanstown, Coleraine and Magee – Professor Richard Barnett and Adrian Kelly told students:
"As a University of Ulster student, you should be aware that you are a representative of the University both on and off campus and carry with you the good name and reputation of the University.
"In the past, anti-social behaviour by some students has tarnished the good name of the University and its student body, and resulted in criminal convictions for some students as well as disciplinary penalties for others."
And they warned that the University was determined to invoke its disciplinary procedures where necessary to protect the its good name:

"Be assured that the University will act swiftly against any of our students identified as bringing the University into disrepute through their behaviour on St Patrick's Day.

"Accordingly, we ask that you be respectful and considerate of local residents and the communities that you live in, in order to protect the reputation of your University and to foster good community relations.

We remind you that the University of Ulster's Student Charter – to which you agreed when you registered as a University of Ulster student – states that: "you will not behave in an anti-social manner, on or off campus, and that you will behave in a responsible manner in respect of the accommodation you occupy, relations with co-habitants, neighbours and local community. Anti-social behaviour may result in disciplinary action."
While much of the focus on St Patrick's Day will inevitably be on south Belfast area, Professor Barnett and Mr Kelly stressed the wider context for the University of Ulster:

"We also trust our students at Magee and Coleraine will enjoy St Patrick's Day in ways that bring credit to themselves and their university."
ENDS